CORONAVIRUS
/
Taiwan to add isolation wards to treat rising COVID-19 cases
Taipei, May 10 (CNA) The Central Epidemic Command Center (CECC) said Tuesday it would soon begin requiring small- and medium-sized hospitals to open dedicated isolation wards for those with COVID-19.
The CECC announced the plan as daily COVID-19 infections broke the 50,000 mark in Taiwan Tuesday, a number that could possibly double in coming weeks as the Ministry of Health and Welfare had projected.
Large hospitals with 500 or more beds in Taipei, New Taipei, Keelung, and Taoyuan, where the majority of cases have been reported, have already been asked to increase the total percentage of beds for COVID-19-infected patients from 20 percent to 30 percent, according to the CECC.
The increase was announced by the health ministry on May 7 to treat COVID-19 patients with severe infections.
Lo Yi-chun (羅一鈞), a deputy director-general of the Centers for Disease Control, said at the CECC's daily press briefing that small- and medium-sized community hospitals quite likely already have patients infected with COVID-19, given the ongoing surge in domestic cases.
The health ministry had a meeting with hospitals Tuesday morning to discuss how community hospitals could have dedicated COVID-19 wards for their existing patients who also have COVID-19, so they would not have to be sent to large hospitals, but no conclusions were made, Lo said.
The community hospitals could be divided into those with less than 200 beds and those with 200 beds and more, but the requirement of setting up dedicated wards would not be mandatory, Lo said, adding that it would be more flexible for these smaller hospitals, compared to what is required at large hospitals.
The plan will be formally announced once all details are finalized, he said.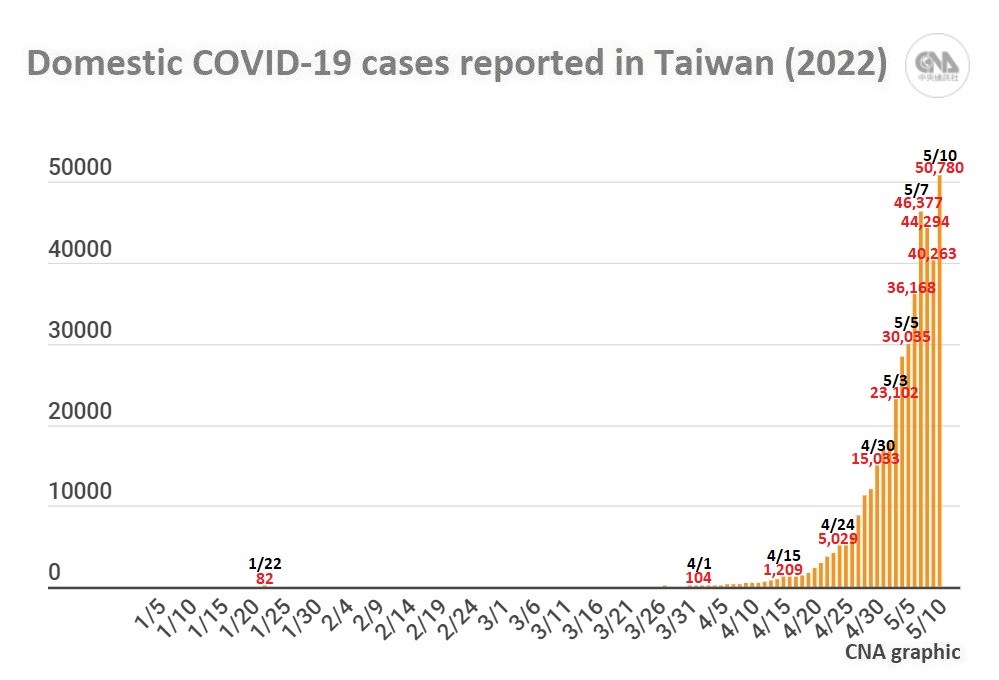 On Tuesday, Taiwan reported 50,828 new cases -- comprising 50,780 domestically transmitted infections and 48 contracted abroad -- and 12 deaths from the disease, according to the CECC.
New Taipei reported the most new COVID-19 cases with 16,906, followed by Taipei with 10,283, Taoyuan with 7,006, Taichung with 3,346, and Kaohsiung with 2,552, CECC data showed.
In addition, the CECC reported that 34 patients had developed moderate symptoms and 14 had developed severe symptoms.
Of the 370,933 domestic cases recorded in Taiwan from Jan. 1 to May 9, 689 have been classified as moderate infections and 136 as severe, accounting for 0.19 percent and 0.04 percent of the total, respectively, according to CECC data.
Update
May 17: CECC further tightens COVID-19 hospital admissions policy
Related News
May 10: Taiwan reports 50,828 new COVID-19 cases, 12 deaths
May 4: Taiwan adjusts hospital policy for COVID-19 patients
View All