CORONAVIRUS
/
Timeline: COVID-19 in Taiwan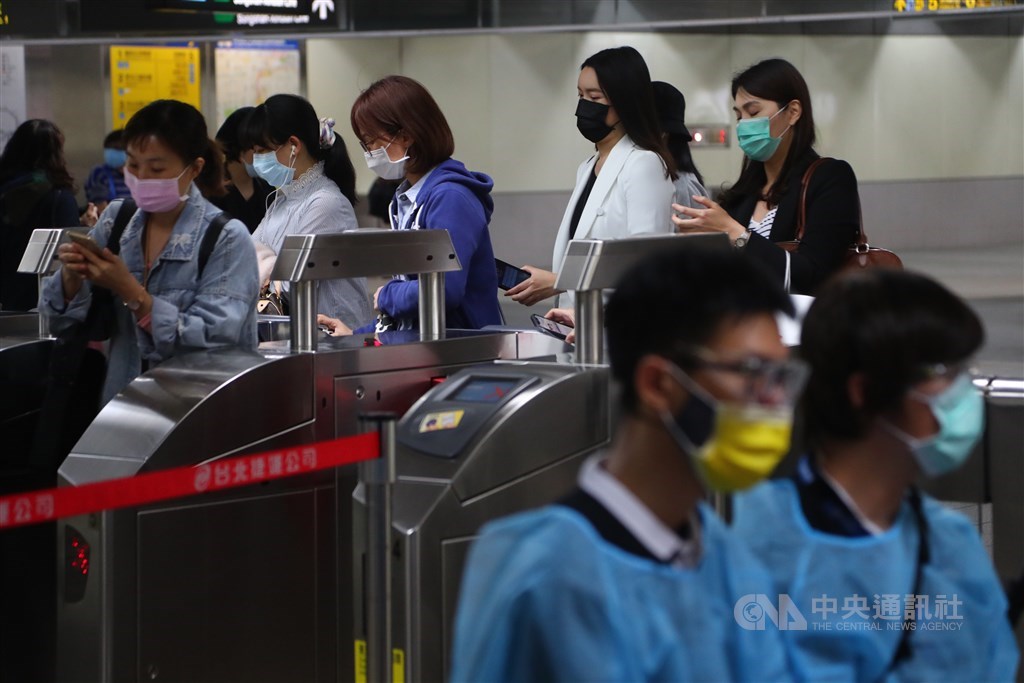 Dec. 31: Health screening begins
Taiwan begins screening arriving passengers from Wuhan as they disembark at the airport. That measure is gradually expanded to flights from China then to all incoming flights, by March.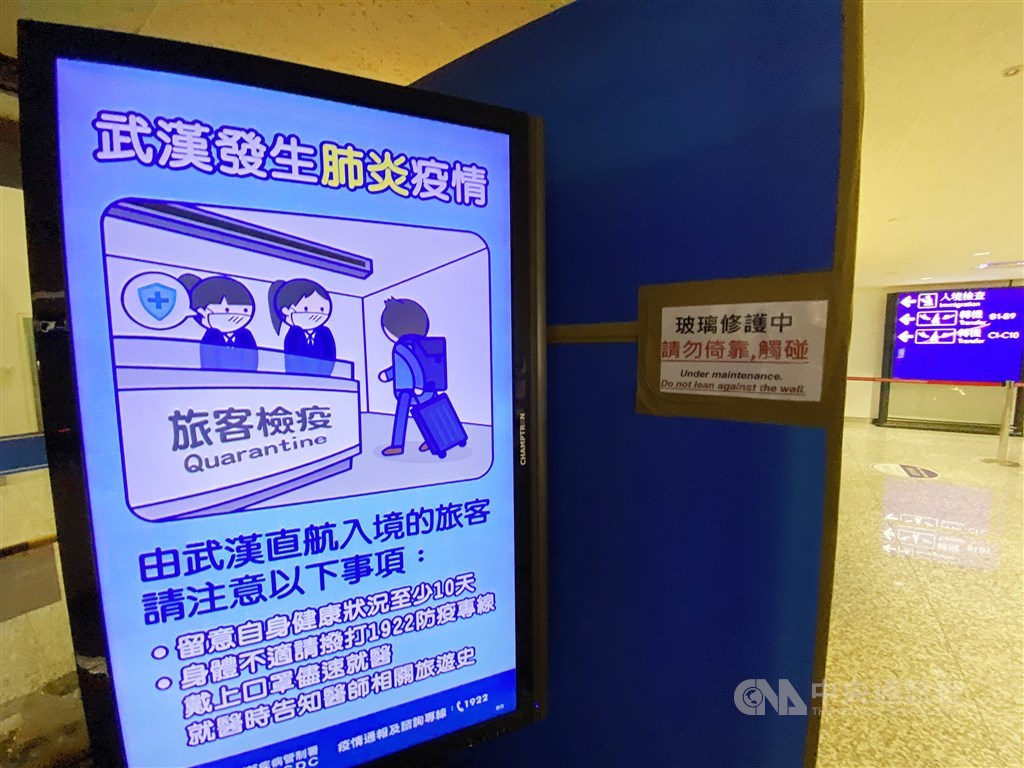 Jan. 20: Taiwan sets up central emergency command center
The Taiwan Centers for Disease Control establishes the Central Epidemic Command Center (CECC) in response to a growing number of infections caused by a novel coronavirus in neighboring countries.
Jan. 21: Taiwan confirms first case
A Taiwanese passenger arriving from Wuhan tests positive for the disease that the World Health Organization later named COVID-19, two days before China locked down Wuhan and other cities.
Jan. 26: Entry of Chinese tourists restricted
Entry restrictions begin with visitors from China's Hubei Province during the Lunar New Year holidays and are gradually expanded to all Chinese nationals.
Feb. 3: First group of Taiwanese evacuated
A group of 247 Taiwanese is evacuated from Wuhan on the first of several special flights after a series of discussions between officials in China and Taiwan.
Feb. 6: Mask rationing begins
The government requisitions all surgical face masks produced in Taiwan and implements a rationing system for the public, allowing holders of National Health Insurance cards to each buy two per week at designated pharmacies. The ration is later increased to three per week, then nine every fortnight, and an online ordering system is introduced.
(Related: How a team of technicians is helping Taiwan triple mask production)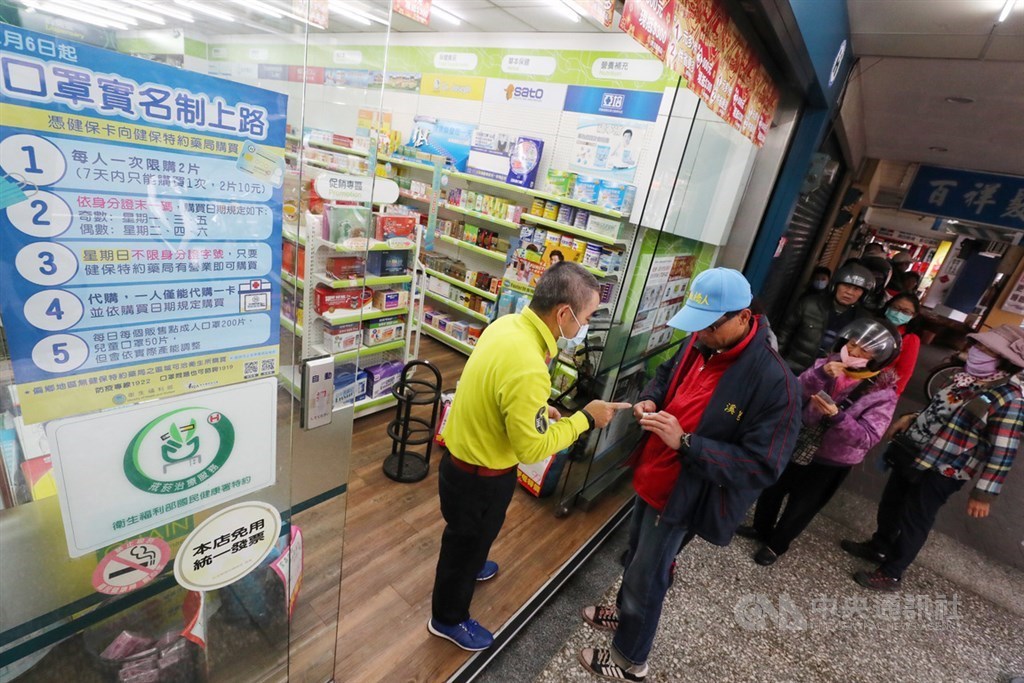 Feb. 11: Travel alerts expanded
Taiwan health authorities advise against travel to Hong Kong, Macau,
Singapore and Thailand because of COVID-19 outbreaks in those destinations.
Feb. 16: Taiwan records first death
Taiwan reports its first COVID-19 death, a rental car driver who apparently contracted the disease from a retuning Taiwanese businessman based in China.
Feb. 21 Taiwanese on Diamond Princess evacuated
A charter flight brings home 19 Taiwanese who were onboard the Diamond Princess cruise ship quarantined off Yokohama, Japan. The returning Taiwanese are put into quarantine for 14 days.
Feb. 25: Legislature passes relief bill
A bill, called the Special Act for Prevention, Relief and
Revitalization Measures for Severe Pneumonia with Novel Pathogens, is passed in the Legislature to mitigate the impact of COVID-19.
Feb. 26-March 2: Schools reopen after winter break
After a two-week postponement of the start of the spring semester, elementary and high schools open on Feb. 26, and universities on March 2.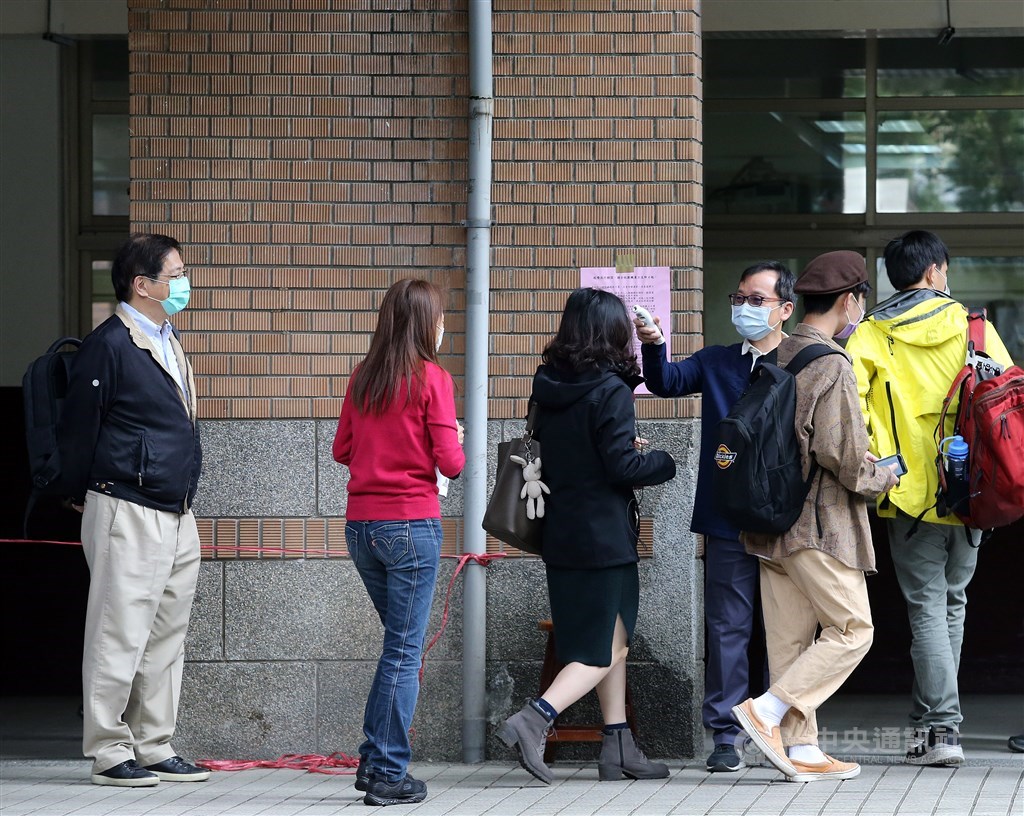 March 14: Travel alerts widened
Taiwan issues new travel alerts to include high risk areas in
Europe, North Africa and Dubai, citing a rise in imported cases from these regions. The warnings are expanded to the U.S., Canada, and Australasia in the following days.
March 18: Taiwan confirms 100th case
The number of confirmed COVID-19 cases in Taiwan hits 100. The death toll remains at one, while 22 patients are reported to have recovered.
March 19: Border control tightened
Taiwan bans all foreign visitors, with few exceptions, and imposes mandatory 14-day self-isolation for all arriving passengers. (Update: May 27-Taiwan maintains border restrictions despite beating back COVID-19)
(Related: How Taiwan has been able to keep COVID-19 at bay)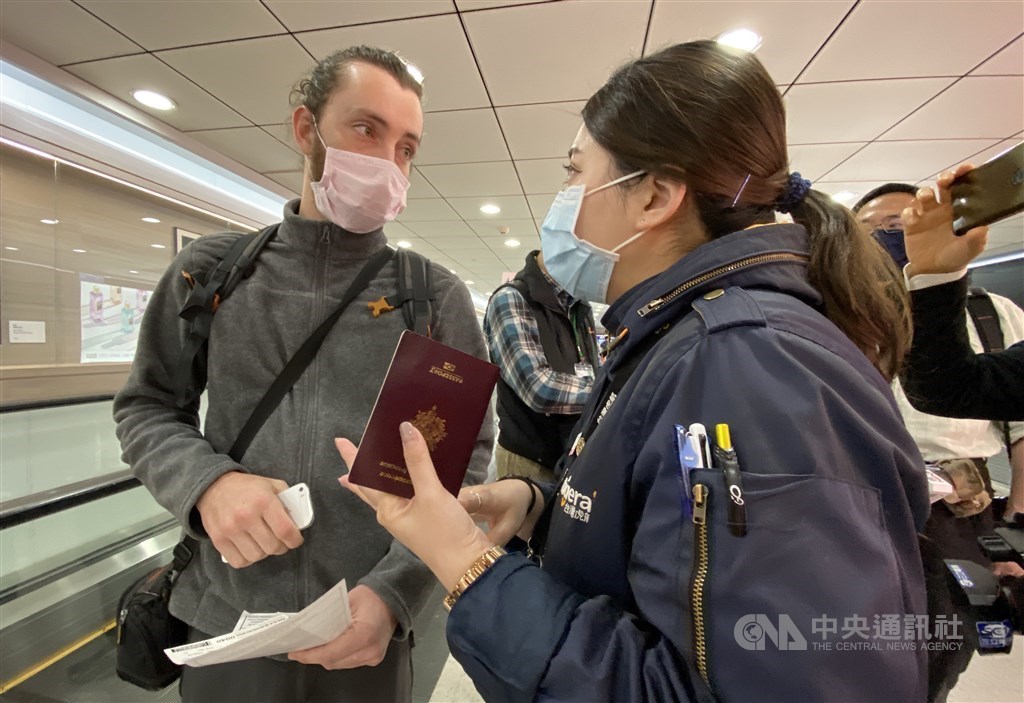 March 24: Transit passengers banned
Taiwan prohibits the entry of travelers en route to another country.
Hong Kong and Singapore take similar steps.
March 30: Confirmed cases pass 300
The number of confirmed cases rises to 306, with five fatalities.
Recoveries are reported as 39.
April 1: President Tsai gives national address on COVID-19
In a national speech, President Tsai Ing-wen pledges donations of surgical face masks and other types of assistance to foreign nations and announces an expansion of the domestic relief package.
April 1: Masks become mandatory on public transport
The Ministry of Transportation says all passengers on public transportation must wear a face mask or they will be fined.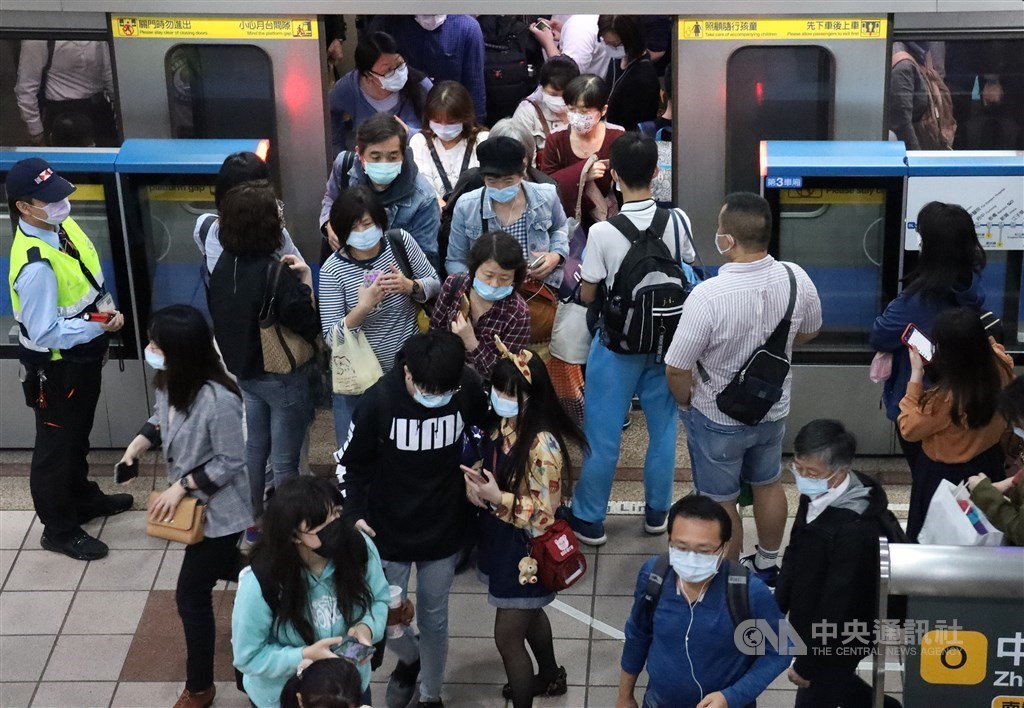 April 2: Cabinet proposes bigger relief package
The Cabinet puts forth a plan to increase the country's NT$60 billion (US$2 billion) coronavirus relief package by NT$150 billion. The passage of the additional funds is forecast for May.
April 3: Global cases surpass 1 million
The number of confirmed cases worldwide surges past 1 million, and Europe and the U.S. become the two epicenters.
April 4: First national alert issued
The government issues a national alert via text messaging, reminding people to observe the social distancing guidelines and avoid gatherings during the four-day Tomb Sweeping Festival.
April 9: Hostess clubs and ballrooms closed
The CECC issues an order to shut down hostess clubs and ballrooms, saying they are high-risk venues for the spread of COVID-19, and urges social distancing to prevent cluster infections. (Update: May 21-More than a dozen Taipei hostess clubs receive green light to reopen)
April 10: Further crowd management measures introduced
The CECC announces tighter crowd measurement measures at scenic and popular areas around Taiwan. Night markets, traditional markets and shopping areas are required to enforce social distancing, and have only one point of entry.
April 14: Crowdfunded 'Taiwan can help' ad published
The New York Times publishes an advertisement funded by over 26,000 donors in a fundraising campaign with the aim of showing the world that Taiwan can help in the fight against the COVID-19 coronavirus pandemic.
April 16: Global cases surpass 2 million
The number of confirmed cases around the world climbs above 2 million, while Taiwan reports no new cases three times in the same week.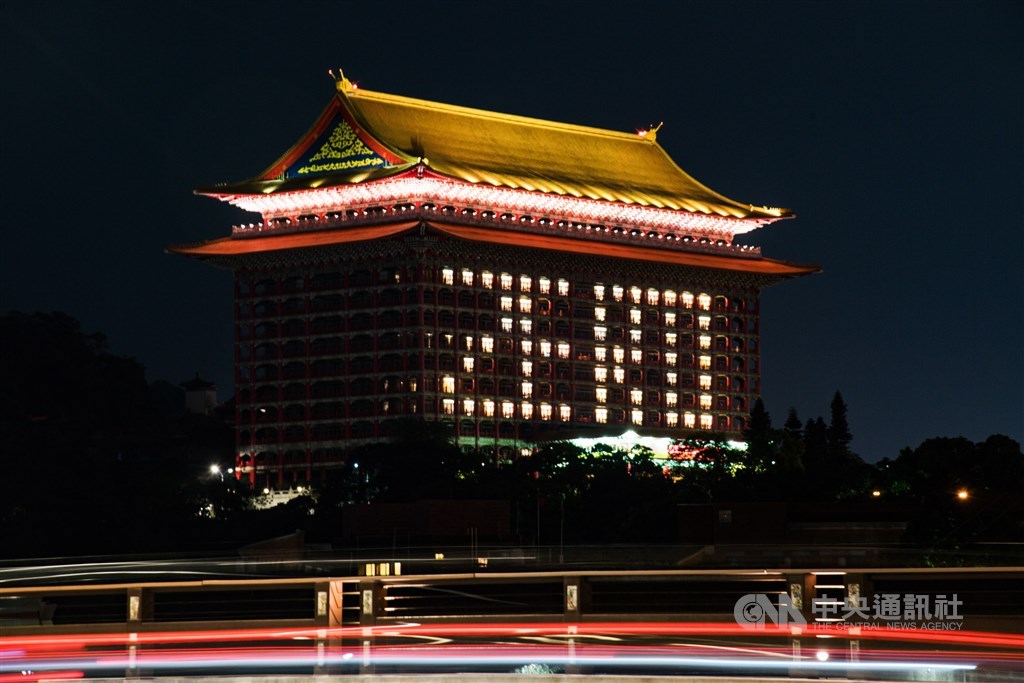 April 18: Three new cases confirmed in military
Three new cases of the new coronavirus disease are confirmed in Taiwan, all of whom were naval cadets who had spent time on a military ship. Chief of the General Staff Huang Shu-kuang is in 'self-health management' after being in contact with the ship's staff members.
April 19: Confirmed cases surge over 400
Taiwan confirmed 22 new COVID-19 cases, 21 of which involved members of the Navy serving on a fleet that sailed to Taiwan's Pacific ally Palau, bringing the total case number to 420.
(Related: Recovered COVID-19 patient describes trip to 'alien planet' and back)
Video: Taiwan donates face masks around the world
April 20: Navy cluster infection triggers CECC alert
The CECC issues an alert regarding the movements of 24 military personnel who tested positive for the COVID-19 coronavirus disease after they returned recently from a goodwill mission on three Navy vessels. (Update: May 24-Navy cluster originated in Taiwan, not Palau: CECC)
April 27: Mask donation scheme launched
The government platforms for the online purchase of surgical face masks introduce a new function that allows Taiwanese to donate their quota of surgical face masks to other countries that are in short supply.
April 28:
May 1: No new cases for six days
Taiwan does not record any new COVID-19 cases for a sixth consecutive day, but Health Minister Chen Shih-chung still urges the public to remain vigilant. Globally, more than 3 million people have contracted the coronavirus. Taiwan places an export ban on hand sanitizers, disinfectants.
May 3: More cases in naval cluster
Four military personnel from a COVID-19 infection cluster on board the Navy's Panshi Fast Combat Support Ship test positive, pushing the total number of confirmed cases to 436. (Update: May 24-Navy cluster originated in Taiwan, not Palau: CECC)
May 6: Travel restrictions on Taiwanese in Hubei relaxed
The CECC relaxes COVID-19-related travel restrictions on Taiwanese nationals stranded in the Chinese province of Hubei, who will be free to return home on any commercial flights from May 8.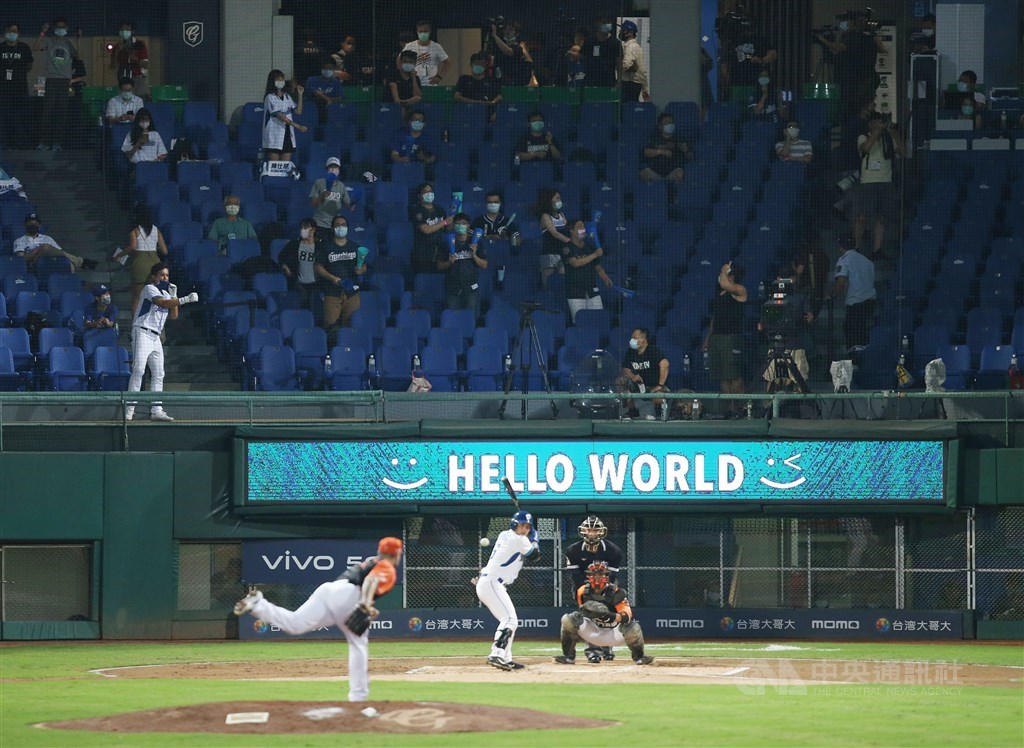 May 8: Pro baseball games open to fans
Taiwan's professional baseball league has become the first in the world to play before spectators, admitting up to 1,000 fans to each of its two scheduled games.
May 10: Buddhist groups move religious ceremonies online
The Buddhist Compassion Relief Tzu Chi Foundation holds its annual Buddha Day ceremony online for the first time, due to a government restriction on mass gatherings.
May 11: Seventh death reported
A seventh person has died of COVID-19 in Taiwan, while the number of confirmed cases kept at 440 since the pandemic began late last year.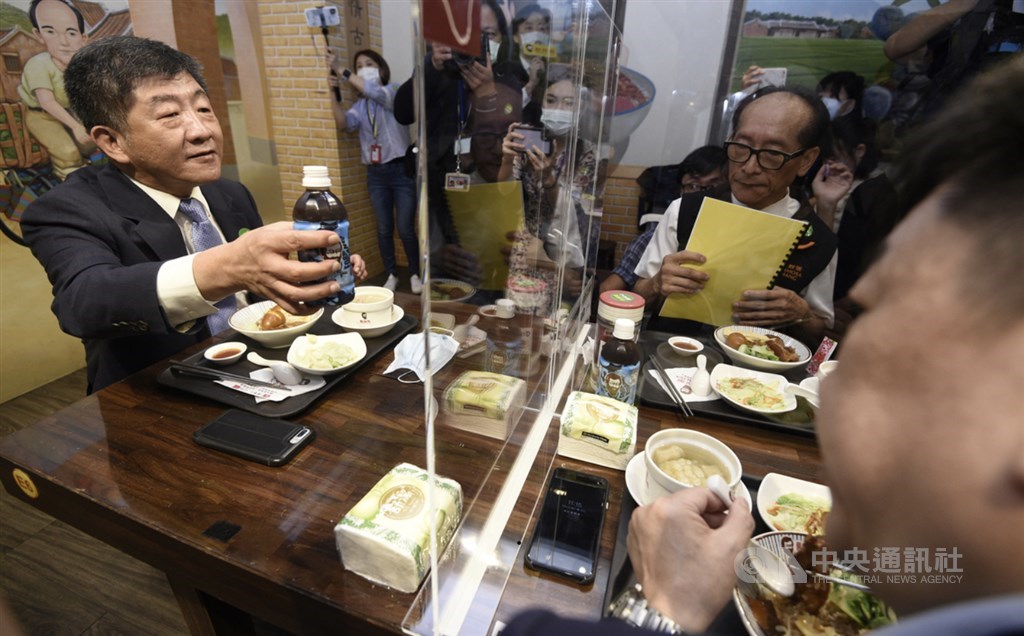 May 19: Overseas tours further suspended
The suspension of all outbound and inbound tours imposed on Taiwanese travel agencies is further extended until the end of June.
May 20: President Tsai pledges to meet COVID-19 challenges
In a streamlined inaugural ceremony ushering in Tsai's second term, the president praises the unity and resilience of Taiwan's people in dealing with COVID-19.
May 21: First new case in two weeks
One new case of the COVID-19 coronavirus disease iss reported, breaking a 13-day stretch of zero new confirmed infections in Taiwan. The global number of confirmed cases reaches above 5 million.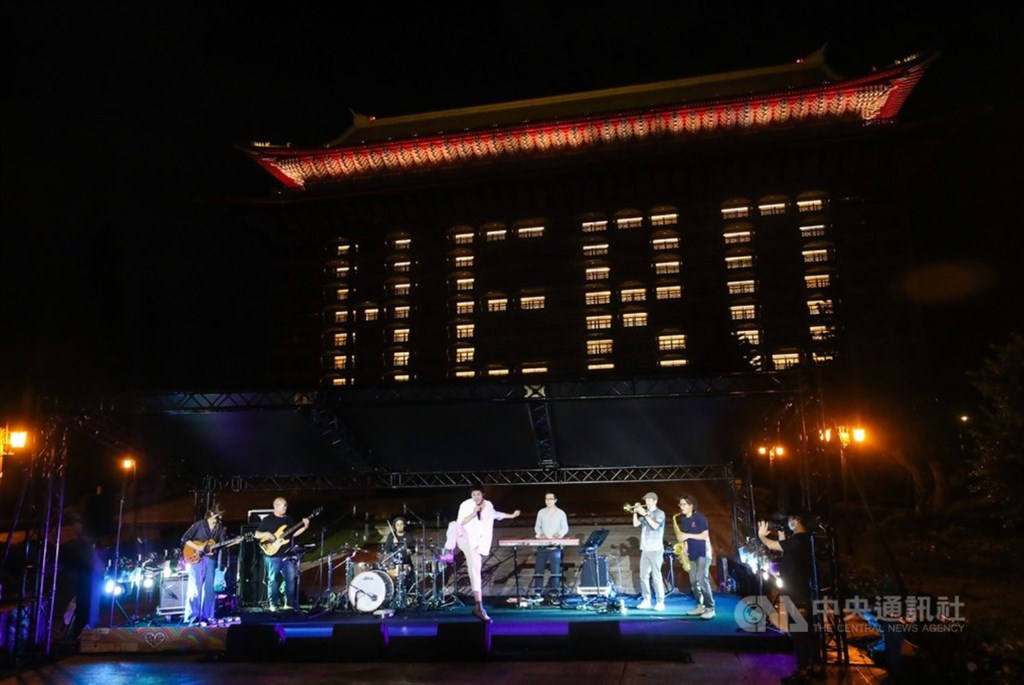 May 24: Muslims celebrate annual Eid al-Fitr in Taipei
Hundreds of Muslims in Taiwan, including migrant workers, gather at an open space by the Taipei Main Station to celebrate the annual Eid al-Fitr festival, which marks the end of the fasting month of Ramadan, as mosques in Taiwan remain closed to worshipers.
May 24: COVID-19 briefing held ouside Taipei for the first time
The Central Epidemic Command Center holds its daily briefing on the COVID-19 coronavirus pandemic in the tourism hotspot of Kenting in southern Taiwan in a bid to promote local travel.
May 25-27: Government unveils plans to ease restrictions
The government unveils plans to lift face mask exports on June 1, and to ease social distancing rules and restrictions on mass gatherings in early June, if there is no new domestic cases reported for 56 days. While an earlier ban on overseas tours organized by local tour agencies has been extended to the end of June, the government plans to push domestic travel and prepares for stimulus measures. Border control measures, however, will remain in place.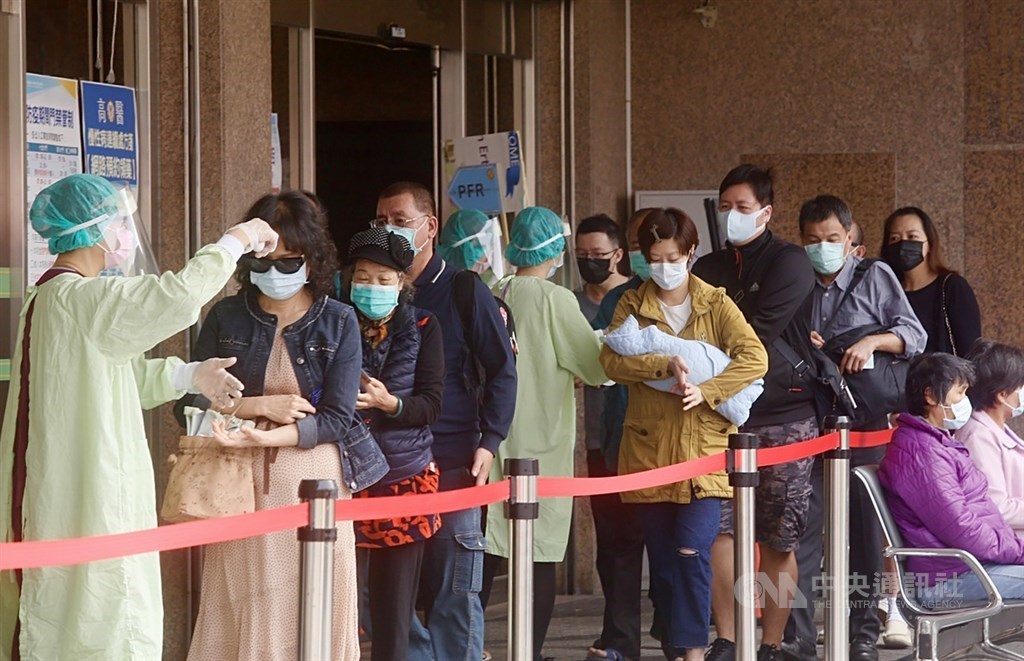 May 29: Self-pay testing more widely available
The Central Epidemic Command Center announces that anyone in Taiwan can obtain a self-pay test for the COVID-19 coronavirus, with effect from this day, as the country now has adequate testing capacity.
May 30: Remdesivir as COVID-19 medication
The health authorities have approved the potential new coronavirus COVID-19 medication remdesivir for treatment of the disease in Taiwan.
May 31: Surgical masks to return to open market
Retailers announce sales plans for surgical face masks as the government relaxes from June 1 a requisition order of the product introduced at the end of January. The government's existing platform for mask purchase under an earlier rationing scheme is to remain in place.
(Related: Life with face masks, then and now)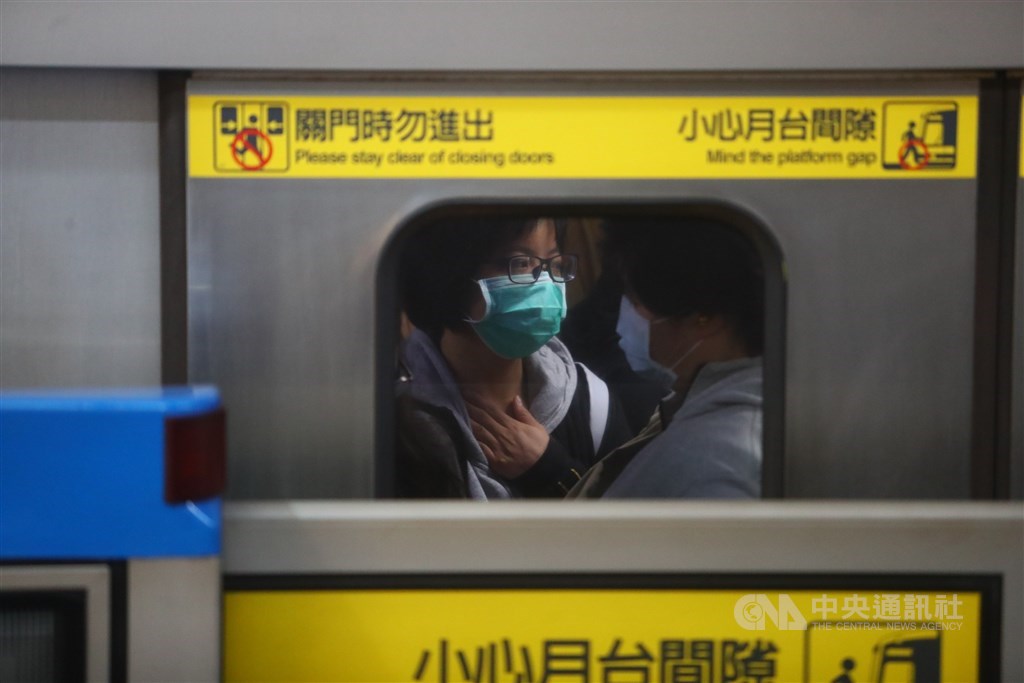 June 1: One new imported case confirmed
The new patient is a woman in her 50s, who went to the United States in March for work reasons and returned to Taiwan on May 31.
June 2: Government announces stimulus scheme, remains cautious on border control
Premier Su Tseng-chang (蘇貞昌) announces a stimulus voucher program that allows Taiwan nationals and their foreign or Chinese spouses to buy NT$3,000 worth of vouchers for NT$1,000. Menahwhile, the Ministry of Foreign Affairs gives its assurance that the country's health will remain a priority amid the COVID-19 pandemic when the government discusses mutual relaxation of border restrictions with other countries.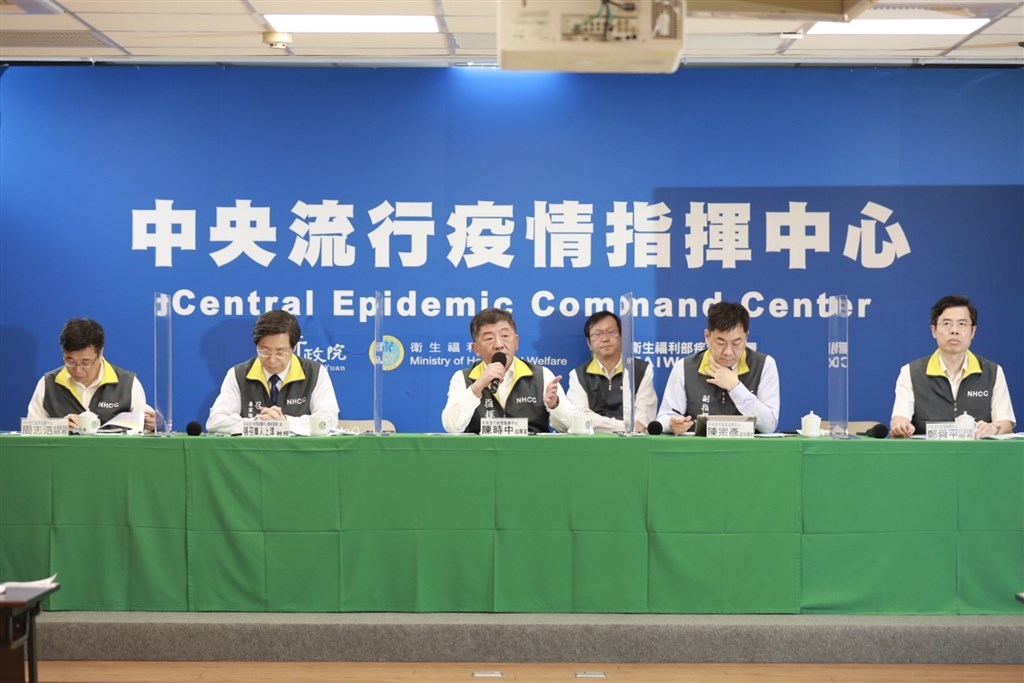 June 7: COVID-19 rules eased, website on Taiwan's efforts launched
The Central Epidemic Command Center lifts some of its restrictions on large gatherings, social distancing and the need for face masks, citing Taiwan's record of no new locally transmitted COVID-19 cases for 56 straight days. The Ministry of Health and Welfare launches a website to share with the world the successful policies that Taiwan has implemented in its prevention efforts against the COVID-19 pandemic. The day also marks end of the daily briefing, which will take place once a week on Wednesdays.
June 10: COVID-19 briefing switched to weekly
The Central Epidemic Command Center holds its first weekly briefing after the daily press event ended on June 7. No new cases were reported, keeping the total at 443.
 (Related: CNA graphic -- COVID-19 restrictions lifted)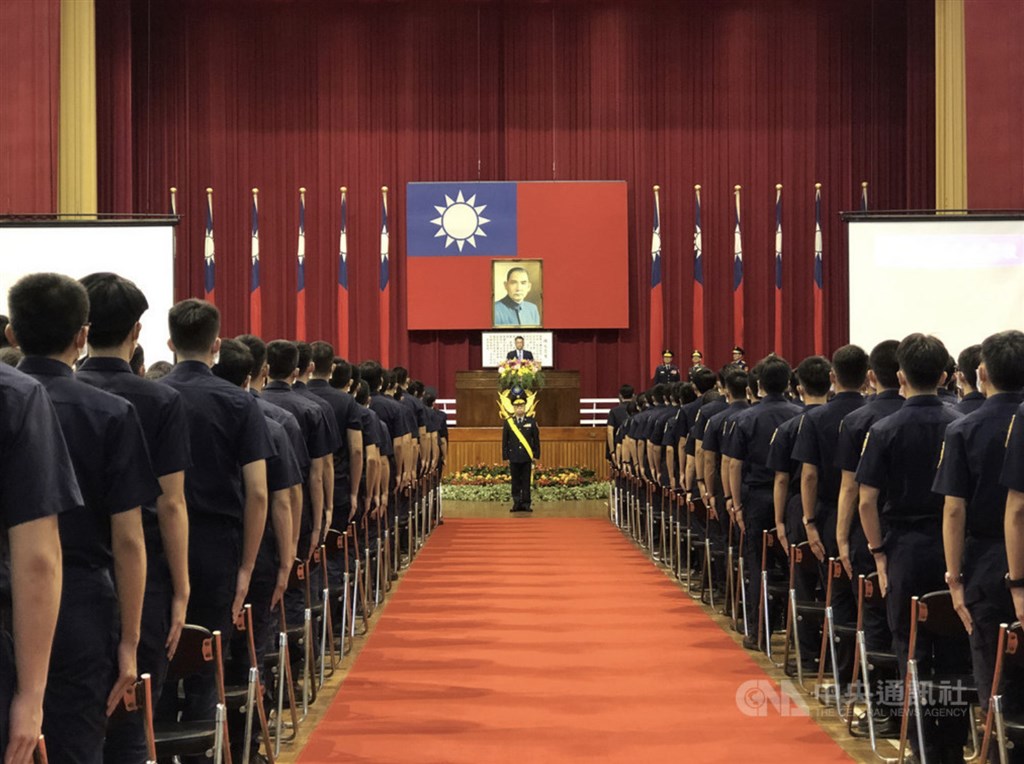 June 15: Two new imported cases
The two patients, a husband and wife, flew to Bangladesh for work in late January and early March, respectively, before flying together to Malaysia on June 12 and returning to Taiwan the next day.
June 18: One more new infection
A man who returned from Bangladesh last week has been diagnosed with COVID-19, bringing the total number of cases in Taiwan to 446.
(Related: Graduation season amid COVID-19)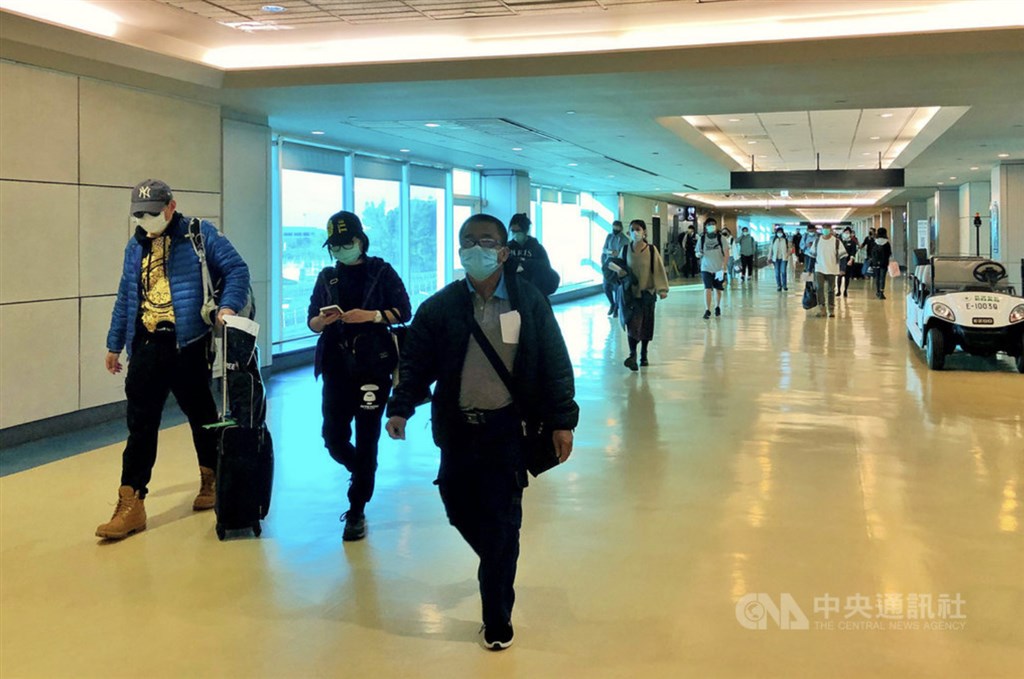 June 22: New travel rules adopted
Taiwan opens its doors to foreign business travelers from certain countries and areas since March 19, when border controls due to COVID-19 were imposed. China Airlines begins requiring all passengers to board its flights via the current online check-in service to reduce the risk of spreading the conoravirus disease.
June 24: Travel restrictions further relaxed
The Central Epidemic Command Center announces that international air passengers will be allowed to transit through Taiwan Taoyuan International Airport from June 25, while the country will begin allowing foreign nationals to apply to enter the country for reasons other than tourism and social visits starting June 29.
June 25: One new imported case
One new imported case of COVID-19 iss confirmed in Taiwan, bringing the total number of cases in the country to 447. The new patient is a man in his 60s who traveled to Guatemala in early April for work.
(Related: Taiwan COVID-19 patient released from hospital after 75 days)
For latest COVID-19 information: Taiwan Centers for Disease Control
enditem
View All