Taiwan lifts land warning for Tropical Storm Danas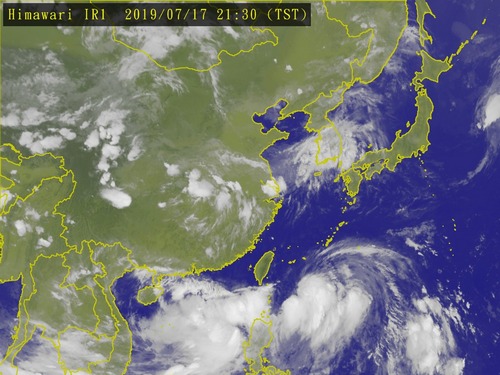 Taipei, July 17 (CNA) The Central Weather Bureau (CWB) lifted its land warning for Tropical Storm Danas at 8:30 p.m. Wednesday, saying the threat to Taiwan proper had weakened.
However, the eye of the storm had already entered the Bashi Channel, south of Taiwan, and although Taitung and Hualien counties were no longer in its path, it remained a threat to vessels at sea off eastern and northern Taiwan, the CWB said.
As of 8 p.m., Danas was located 350 kilometers east-southeast of Taiwan, moving northward at a speed of 23 kilometers per hour, according to the CWB.
It was packing maximum sustained winds of 65 kilometers per hour, with gusts of 90 kph, according to the bureau.
Citing the storm's peripheral effects, the CWB also issued a heavy rain warning for the eastern country of Yilan and mountainous areas of New Taipei between Wednesday night and Thursday.
It also cautioned people in central, southern, and southeastern Taiwan to be on the alert for potential flooding on Friday.
The CWB had issued a land warning for Danas at 11:30 a.m. Wednesday, saying it would pose a threat to areas of southeastern Taiwan, but the bureau revised its forecast based on the movement of the storm over the course of the day.