ELECTIONS 2022
/
TPP wins key Hsinchu mayor race, as Kao Hung-an declares victory
*The story was updated at 10:07p.m. with final vote count and remarks from the candidates.
Taipei, Nov. 26 (CNA) Taiwan People's Party (TPP) Legislator Kao Hung-an (高虹安) declared victory in the Hsinchu mayoral election Saturday evening, marking the first time the upstart party has won at the local government level.
Kao finished with 98,121 votes, or 45 percent of the total, with her primary opponent, former Hsinchu Deputy Mayor Shen Hui-hung (沈慧虹) of the Democratic Progressive Party (DPP), receiving 77,764 votes, or 35.7 percent, according to figures from the Central Election Commission (CEC).
Hsinchu City Councilor Lin Ken-jeng (林耕仁) of the Kuomintang (KMT), meanwhile, sat a distant third with 18 percent.
Kao, speaking at her campaign headquarters, told a crowd of exhilarated supporters that her successful election was "a win by all Hsinchu residents" and "a victory for democracy."
The newly elected mayor thanked her parents, supporters, the TPP's chairman Ko Wen-je (柯文哲), her campaign team, as well as her rivals in the mayoral race.
Kao also took time to thank mentors Terry Gou (郭台銘), the founder of Hon Hai Precision Industry (Foxconn), and John Hsuan (宣明智), honorary deputy chairman of contract chipmaker United Microelectronics Corp.
Kao said she would begin working tomorrow morning with the hope of forming her city government administration as soon as possible.
She said she would endeavor over the next four years to "take good care of each and every one of Hsinchu residents" and live up to the high expectations of her supporters.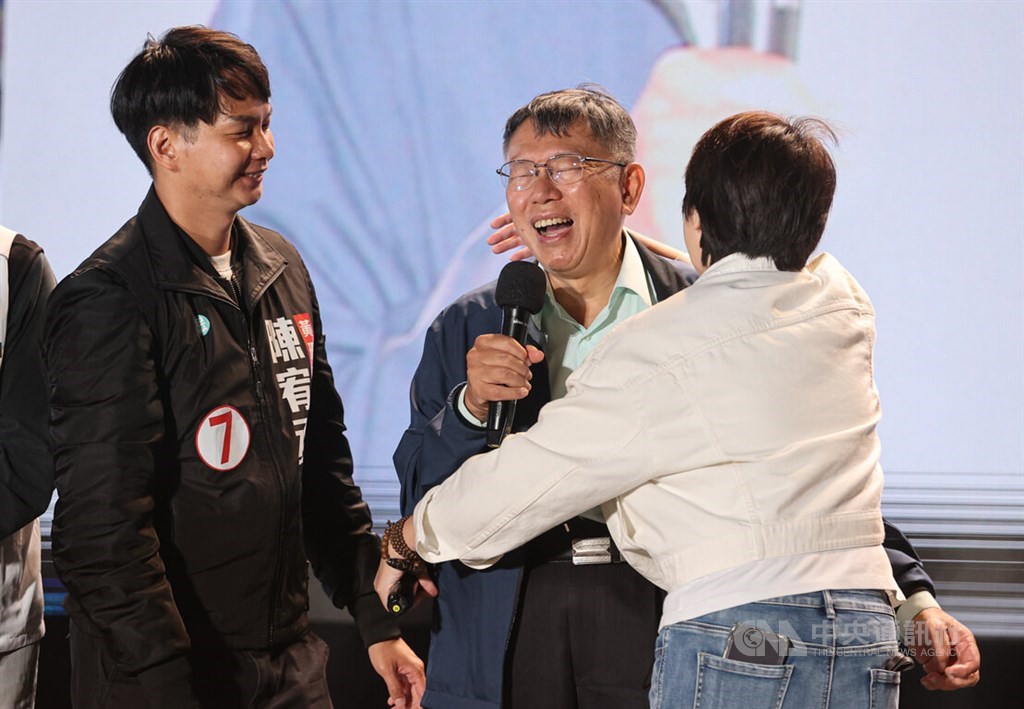 In a press statement, the TPP described Kao's victory as a "miracle," saying that the mayor-elect had won a tough race in which she had been the target of mudslinging for months.
The statement thanked Kao's supporters for choosing to break free from the shackles of political struggles between the DPP and KMT, adding that the mayor-elect represents positive and progressive values.
Kao will be dedicated to promoting unity among all Hsinchu residents and building a happy and glorious city, the statement added.
Meanwhile, at a separate press conference at around 7 p.m, Shen conceded the election and offered her congratulations to Kao.
"I would like to congratulate Mayor Kao Hung-an," said Shen, urging the people of Hsinchu to come together after the election and make the city a better place.
Shen thanked her supporters and campaign team, as well as the DPP's city councilors and former Hsinchu Mayor Lin Chih-chien (林智堅), for accompanying her in the five-month fight.
The KMT's Lin took to social media to apologize to his supporters for letting them down, saying that he would take full responsibility for losing the election.
Hsinchu, a city with a population of around 451,000, has been the site of one of the fiercest battles in this year's local government elections.
The rise of Kao and the TPP, founded in 2019 by outgoing Taipei Mayor Ko, had lent unpredictability to the election from the outset.
Analysts speculated that the mayoral race could provide an opportunity for Ko, who has publicly expressed his intention to run for president in 2024, to test the electoral waters.
The 38-year-old Kao will become the youngest mayor in Taiwan's history, with the election also speaking volumes for Ko's alliance with Gou. 
Kao began her political career as an aide to Gou in the KMT's presidential primary in 2019, before being put high up on the TPP's legislator-at-large slate of candidates on Gou's recommendation for the 2020 legislative elections.
Prior to entering politics, Kao worked at the government-funded Institute for Information Industry (III), later becoming the head of Hon Hai's big data office in 2018.
Throughout the campaign, the TPP legislator had touted her information and computer science background as a competitive advantage over her DPP and KMT rivals.
Kao also emphasized her close connection to Gou, despite the Hon Hai founder never publicly endorsing her.
Saturday's election result showed that legal action against Kao by the III and an ongoing investigation into allegations she misappropriated public funds as a legislator had not eroded support for the TPP candidate.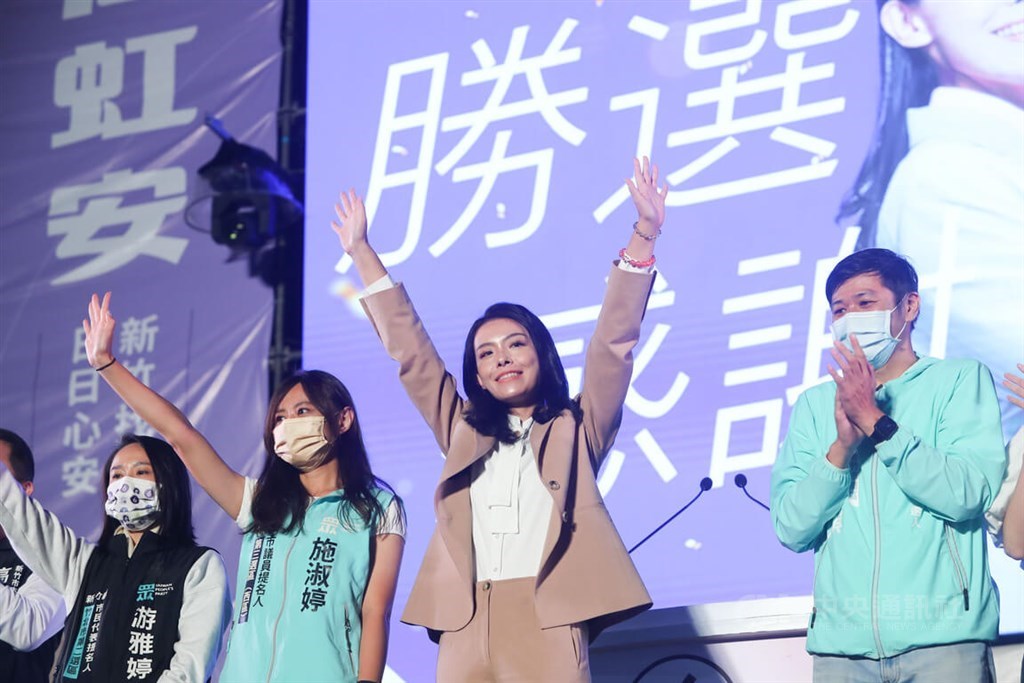 The III filed suit against Kao at the end of October for copyright infringement after determining she copied 70 to 80 percent of her doctoral thesis without proper attribution from reports she coauthored while working at the institute.
Later the same month, the KMT's Lin accused Kao of misappropriating public funds as a legislator, including overstating the salaries of her legislative aides and pocketing the excess for her personal use.
Despite being under investigation by prosecutors in Taipei over the matter, Kao has rejected all the charges, denouncing them as part of a smear campaign against her.
The newly elected mayor has pledged to promote greater integration of Hsinchu City and Hsinchu County -- a region housing major high-tech companies in Taiwan - while promising to transform the city into "an international tech hub" by using her years of experience working in the sector.
Shen, who served as deputy mayor in Hsinchu from 2016 to 2022, had tried to impress voters with her past achievements in pushing for transportation projects in Taipei and Hsinchu.
The 55-year-old ran on a vow to improve the city's traffic by prioritizing planning the construction of a light rail system and building three new bridges connecting Hsinchu City and Hsinchu County.
Shen, however, had seen her election campaign overshadowed by the plagiarism scandals of Lin Chih-chien.
Lin Chih-chien, who resigned as Hsinchu mayor in July after eight years to run for mayor in Taoyuan, dropped out from the race the following month after National Taiwan University found him guilty of plagiarism and revoked his master's degree.
Shen was also called into question by her two rivals and critics about the reopening and rapid closure of the Hsinchu Baseball Stadium in July, following a three-year, NT$1.2-billion (US$38.76 million) renovation.
The Chinese Professional Baseball League (CPBL) barred teams from using the stadium after only two games amid reports of shoddy construction work and player injuries.
Meanwhile, the KMT's Lin, a six-term city councilor, had focused his election campaign on garnering the support of grassroots voters - to little avail.
Finding the campaign increasingly dominated by his two opponents, Lin began leveraging materials leaked by a whistleblower in October to attack Kao over claims she misappropriated public funds.
However, Lin made a U-turn on his approach on Nov. 8, saying at a press conference that he would no longer discuss Kao's affairs -- a decision he said was made together by him and his campaigning team without external pressure.
The 61-year-old Lin found himself relegated to the sidelines in recent weeks, with KMT Hsinchu City Council Deputy Speaker Yu Pang-yen (余邦彥), the head of Lin's supporters' club, switching allegiance to Kao just a few days ahead of election day.
The KMT later said it would determine whether Yu had breached the party's rules, with Chairman Eric Chu (朱立倫) urging supporters to stick with Lin.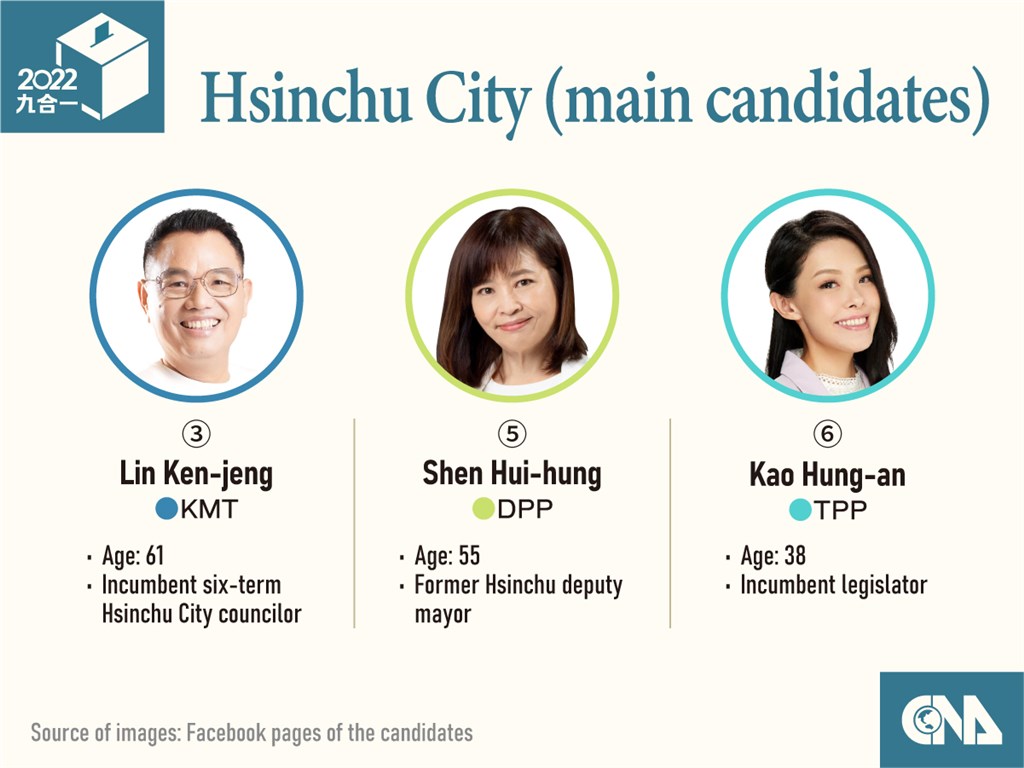 Update
Dec. 16: Hsinchu Mayor-elect Kao Hung-an named corruption suspect
Dec. 15: Investigators search office of Hsinchu Mayor-elect Kao Hung-an
View All