State Department official to speak at U.S.-Taiwan defense meet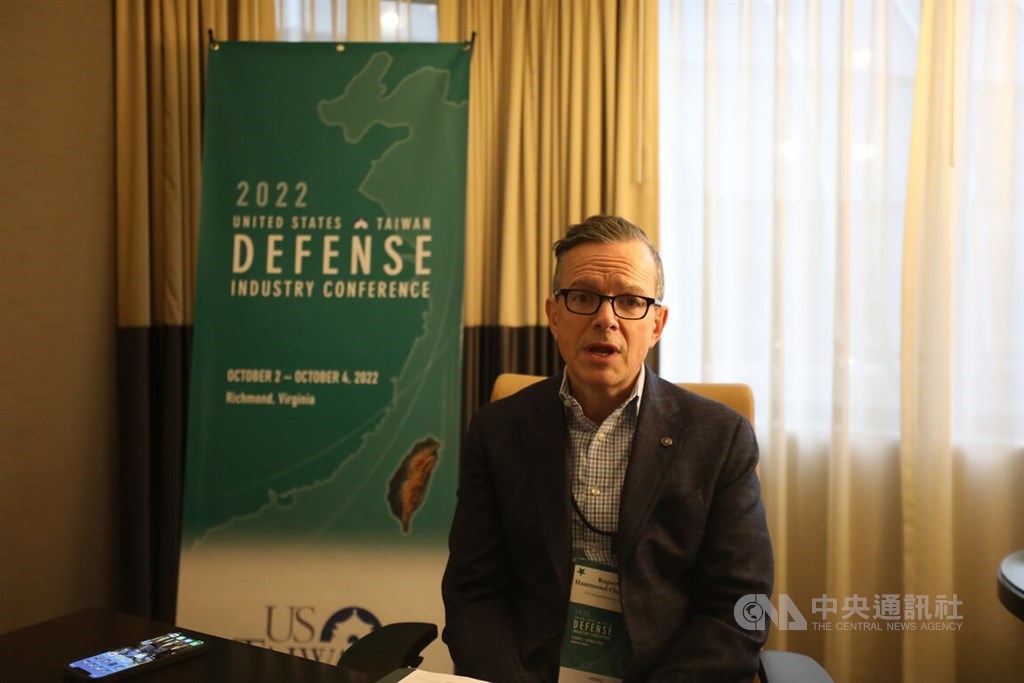 Richmond, VA, Oct. 2 (CNA) A representative from the U.S. State Department's Bureau of Political-Military Affairs will address an annual conference on defense industry cooperation between the United States and Taiwan for the first time this week.
Laura Cressey, director of the Office of Regional Security and Arms Transfers (RSAT) under the Bureau of Political-Military Affairs will speak at the closed-door conference, said Rupert Hammond-Chambers, president of the event's organizer, the U.S.-Taiwan Business Council.
It will be the first speech at the U.S.-Taiwan Defense Industry Conference by a State Department official since 2011 and the first ever by a Bureau of Political-Military Affairs since the forum was launched in 2002, which Hammond-Chambers felt was quite significant.
"I think it's a demonstration of how important they feel this issue is that they are here, and not just here in presence to listen, but also to come and talk about what they feel are important and to hear back from us about how we can help support what they want to do," he said.
Joining Cressey among the speakers will be Jedidiah P. Royal, deputy director of the Defense Security Cooperation Agency (DSCA) under the Department of Defense.
Both the RSAT and DSCA directly handle arms sales to Taiwan, according to Hammond-Chambers.
The purpose of the conference is to provide a platform for the American defense industry to engage with the U.S. and Taiwan governments on security assistance between the two sides, he said.
The Richmond event is being attended by approximately 170 people, including senior business executives from U.S. and Taiwan industries, as well as representatives from the policy-making, national security, academic, and think-tank communities.
Taiwan's delegation is being led by Vice Defense Minister Wang Shin-lung (王信龍). Taiwan's main opposition Kuomintang (KMT) has also sent a delegation led by its head of international affairs, Alexander Huang (黃介正).
Both Wang and Huang are also scheduled to speak during the conference.
According to Hammond-Chambers, this year's focus will be on China's "overreaction" to U.S. House Speaker Nancy Pelosi's visit to Taiwan in August.
"Our conference will spend some time assessing the threat early on to talk about where we think it is at this juncture," he said.
The meeting will also focus on arms sales packages to Taiwan approved by the administration of President Joe Biden and on the future prospects for the proposed Taiwan Policy Act (TPA), he said.
The TPA includes provisions authorizing up to US$6.5 billion in grants from 2023 to 2027 to Taipei to purchase U.S. arms.
It cleared the Senate Foreign Relations Committee on Sept. 14 but still needs to be passed by both the Senate and the House of Representatives as well as receive approval from the White House before the end of the 117th Congress on Jan. 3, 2023, to become law.
Tensions over Taiwan between Washington and Beijing were heightened after Pelosi's visit to Taiwan in early August, the first visit by a sitting U.S. House speaker to the country in 25 years.
Beijing showed its displeasure after Pelosi's 19-hour-visit with several days of large-scale military drills in waters around Taiwan that went beyond previous military maneuvers aimed at sending a message to Taiwan and the U.S., such as flying fighter jets into Taiwan's air defense identification zone (ADIZ).