Taiwan outlines controls on Japan food imports after ban lifted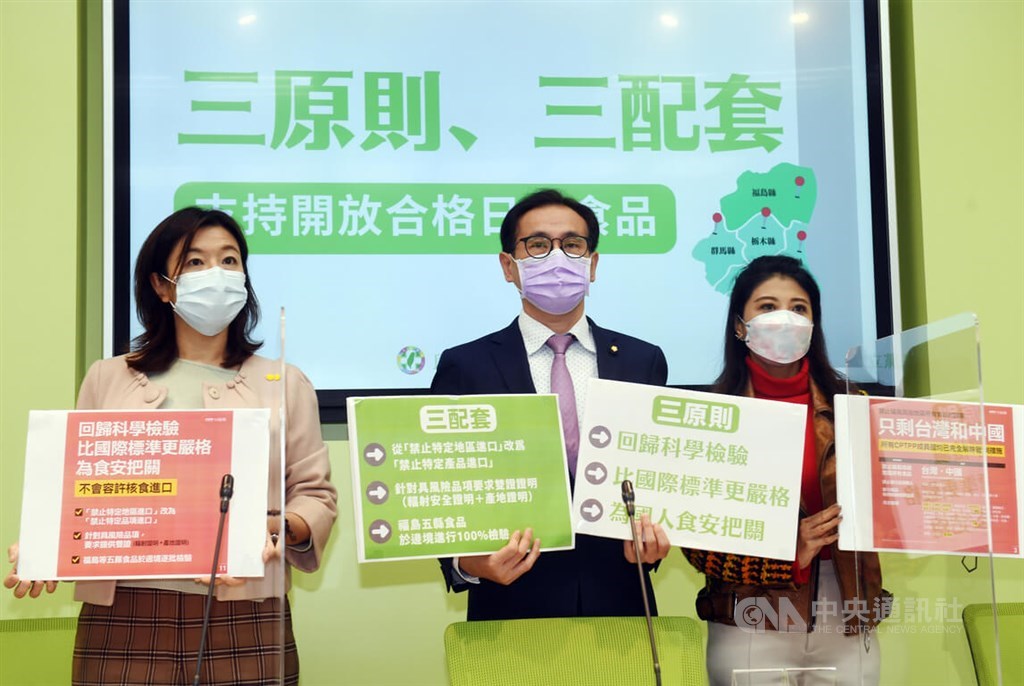 Taipei, Feb. 8 (CNA) The Ministry of Health and Welfare (MOHW) has laid out new rules that will be needed to manage imports of food and agricultural products from areas in Japan affected by the 2011 Fukushima nuclear disaster.
The new rules will mirror measures listed by the Cabinet earlier Tuesday when it announced Taiwan's decision to lift the 11-year-old ban on imports from Fukushima, Gunma, Chiba, Ibaraki, and Tochigi prefectures in Japan, which were hit by fallout from the Fukushima Daiichi nuclear power plant's meltdown in March 2011.
Some food items will remain banned
The MOHW said in a statement that the new rules will be introduced based on the Act Governing Food Safety and Sanitation and will detail the items that will remain prohibited and those that will be subject to specific controls.
While the overall ban on food items from the five prefectures will be lifted, some items from those areas will still be prohibited from entering Taiwan, including the meat of wild birds and other wild animals, mushrooms, and "koshiabura" (漉油菜) (foraged vegetables).
Items from those areas that cannot be sold in other parts of Japan will also not be allowed into Taiwan, according to the proposed new rules outlined Tuesday.
All other food items from the five prefectures will require a certificate of origin and radiation inspection certificate when entering Taiwan, according to a separate list of "supporting measures" accompanying the lifting of the ban issued by the MOHW.
There will be a period of 10 days for the government to collect opinions from members of the public on the new rules and supporting measures before they are implemented, the ministry said.
Strict standards on radioactive substances in food
Defending the policy to open Taiwan's doors to Japanese food products from areas affected by the nuclear disaster, Council of Agriculture chief Chen Chi-chung (陳吉仲) said Taiwan has among the strictest standards on radioactive substances in food.
Taiwan's maximum levels of iodine 131, cesium 134 and cesium 137 in general food products and items such as milk and dairy products, baby food, beverages and bottled drinking water are 10-100 becquerel (Bq) per kilogram, Chen said, similar to those found in Japan.
They are lower than the 100-1,000 Bq/kg adopted by CODEX, 150-2,000 Bq/kg adopted by the European Union, 100-1,000 Bq/kg adopted by Canada, and 170-1,200 Bq/kg adopted by the United States, he said.
Also, Taiwan examined 180,000 Japanese food products over the past decade that all met its standards for radioactive substances, and even the 236 items in which traces of radioactive substances were found were either shipped back to the where they came or destroyed by the importers.
"None of the food products that failed to pass the inspection entered (Taiwan)," Chen said, though he did not specify if the zero tolerance policy of the past would continue in the future.
Related: Timeline on controversy over Japan food imports
According to MOHW data, there were 55 countries and territories around the world that imposed controls on Japanese food products after the Fukushima nuclear disaster in March 2011.
Of those, 41 countries and territories have lifted their control measures while 12 now only ban the import of high-risk products or require radiation inspection certificates or certificates of origin, the data showed.
Only Taiwan and China continued to fully ban Japanese food products from the nuclear disaster-hit areas before Taiwan's announcement on Tuesday.
Update
Feb. 9: Majority of Taiwanese favor lifting ban on Fukushima food imports: DPP
Feb. 8: Taiwan outlines controls on Japan food imports after ban lifted
Feb. 8: Atomic Energy Council to expand national food inspection capacity
Feb. 8: Taipei proposes city-level rules after Fukushima food ban lifted