President Tsai pays last respects to black hawk crash victims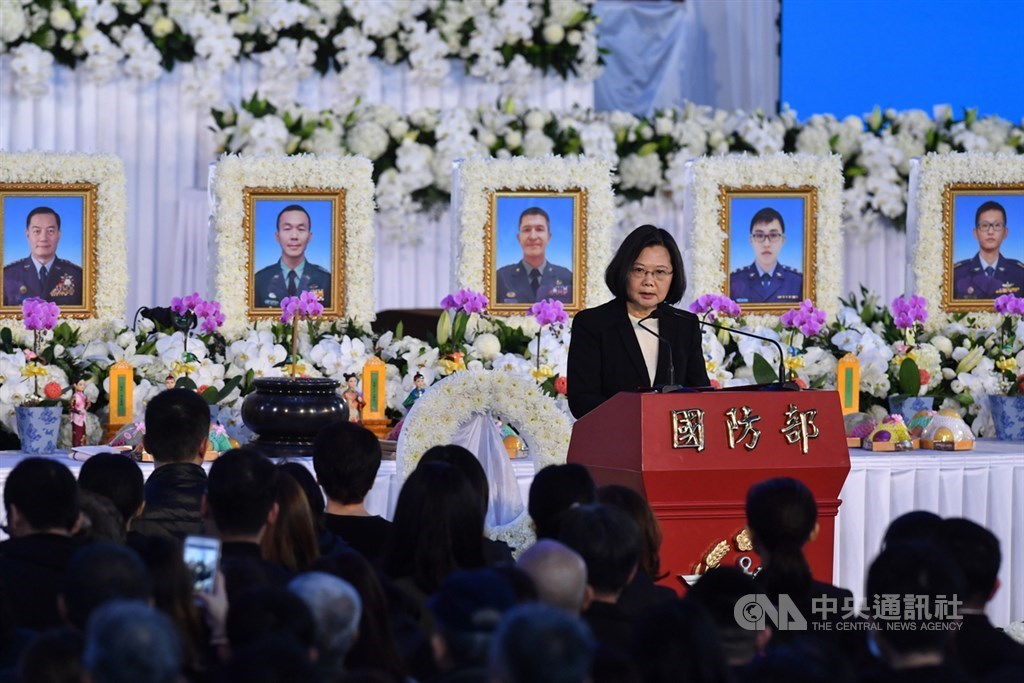 Taipei, Jan. 14 (CNA) President Tsai Ing-wen (蔡英文) on Tuesday paid her last respects to the victims of the Jan. 2 military helicopter crash that killed eight ranking military officers, including Chief of the General Staff Shen Yi-ming (沈一鳴).
At the ceremony, held at the Songshan Air Force Base in Taipei, Tsai announced posthumous promotions for the eight military officers, whose coffins were covered with the Republic of China national flag.
"Thank you for your sacrifice, mission accomplished. The country will miss you and remember your contributions," Tsai said.
She also announced that the government has approved three benefit packages for soldiers actively pushed for by Shen -- additional pay for paratroopers, higher bonuses for Air Force pilots, and professional allowances for sergeants.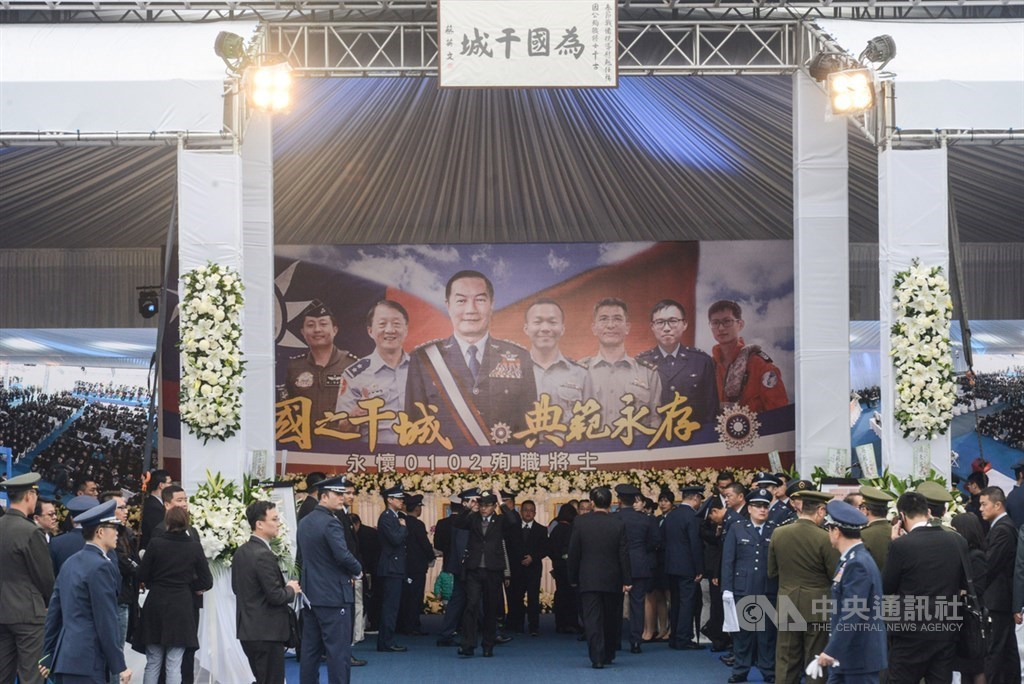 "These benefit programs, advocated by Shen while he was alive, were approved by the Executive Yuan," Tsai said. She urged the men and women in uniform to remember Shen's patriotism and his dedication to the job.
After the memorial service, four Mirage 2000-5 fighter jets and three UH-60M Black Hawk helicopters flew over Songshan Air Force Base in "a missing man formation," an aerial salute performed in memory of a fallen pilot or well-known military service member.
It was accompanied by a 19-gun salute from the army to pay its last respects to Shen and other deceased officers.
Their remains will be buried in the Wuzhi Mountain Military Cemetery in New Taipei after they are cremated.
The ROC flag on government buildings around the country, including schools, flew at half-mast Tuesday.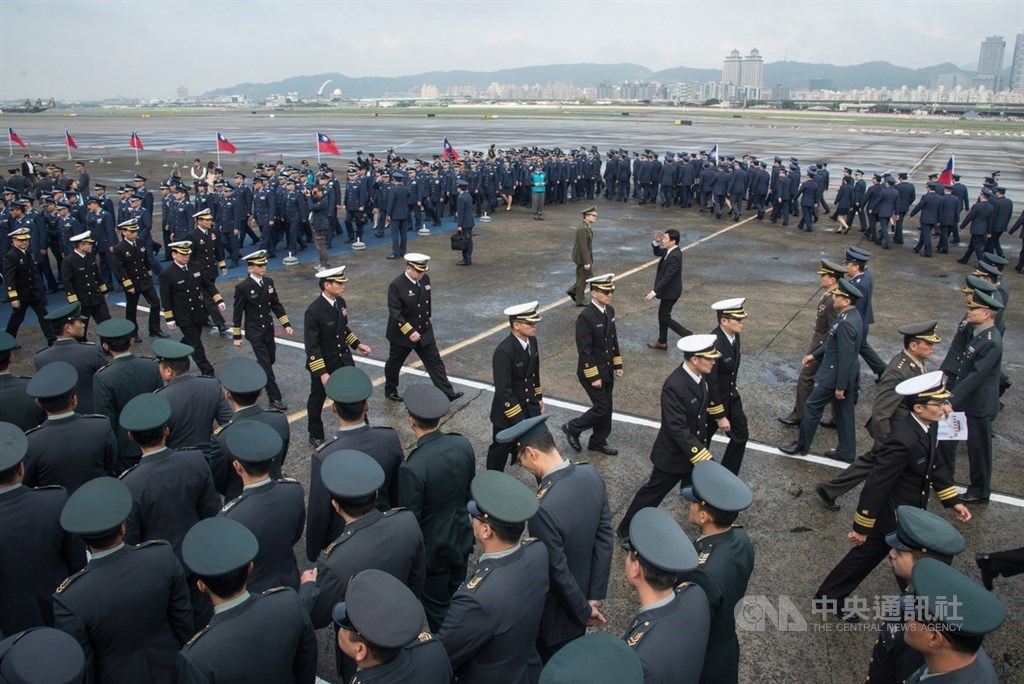 The crash occurred on Jan. 2 when the UH-60M Black Hawk helicopter carrying Shen and his entourage, went down in the mountains of Wulai District in New Taipei, killing eight of the thirteen people on board.
It was on its way to a base in Dong'ao in Yilan County for a pre-Lunar New Year inspection.
Shen, 62, is the highest-ranking military leader in Taiwan to die while conducting official duties from 1949 when the then Kuomintang government retreated to Taiwan to the present.
The helicopter's two data recorders were sent to Sikorsky, the American manufacturer of the Black Hawk chopper, on Jan. 8 for a comprehensive analysis to determine the cause of the accident. The findings are expected to be known in about four weeks.
After a preliminary review of the data, the Taiwan Transportation Safety Board said in early January that it was unlikely that weather and mechanical failure were responsible for the crash.
Because there were certain parts of the data that could only be accessed by the manufacturer, however, the recorders still had to be sent to Sikorsky for a final analysis.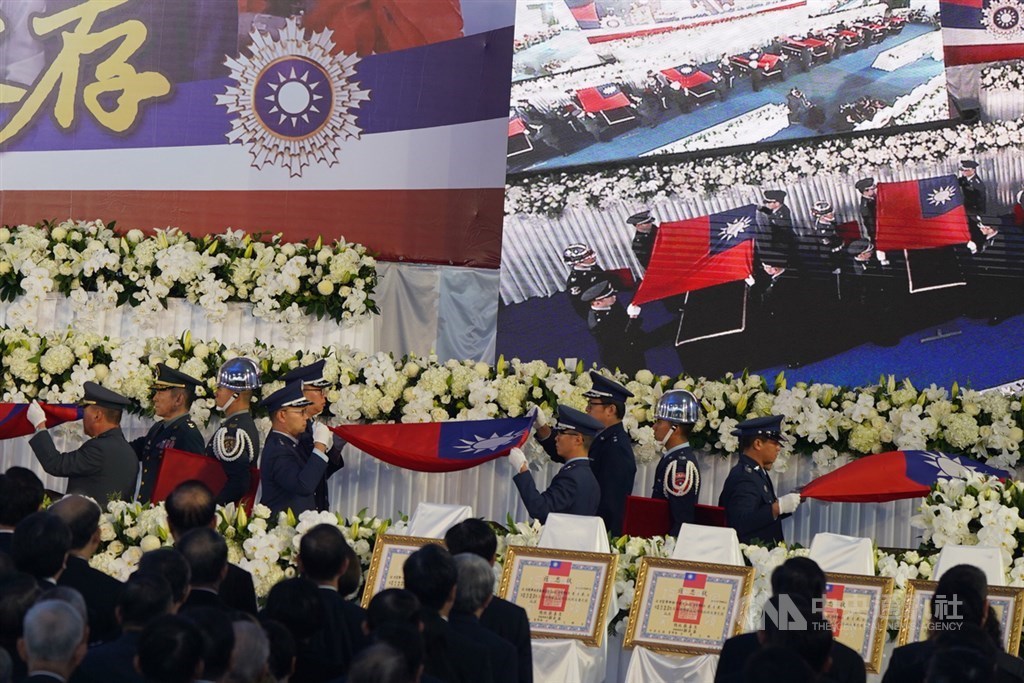 Tuesday's memorial service was attended by Brent Christensen, director of the American Institute in Taiwan's Taipei office and U.S. Department of Defense official Brig. Gen. Matthew Isler.
Heads of missions and military attaches of Taiwan's diplomatic allies, such as Nicaragua, Paraguay and Honduras, and head of representative offices in Taiwan of countries such as France, Japan, Korea and Singapore, were also present.
Among the Taiwanese officials who attended the ceremony were Vice President Chen Chien-jen (陳建仁), Presidential Secretary-General Chen Chu (陳菊), Vice President-elect Lai Ching-te (賴清德), Premier Su Tseng-chang (蘇貞昌), Defense Minister Yen De-fa (嚴德發), former President Ma Ying-jeou (馬英九) and several other Cabinet members.