Green Party's historic win to bring 'green politics' to Taiwan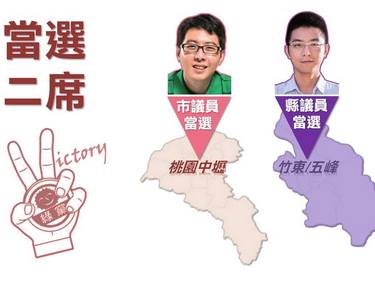 (Click HERE for our special election site)
Taipei, Nov. 30 (CNA) Green Party Taiwan, which focuses on environmental issues, vowed to practice green politics after two of its candidates won city and county posts on Saturday, the party's first victory in any local election since it was established in 1996.
Green Party Taiwan said in a statement Sunday that it will produce an election report as soon as possible and help its elected candidates organize their council caucus.
The party's Wang Hao-yu, 25, won a seat in the Taoyuan City council, while Jay Chou, 34, earned one in the Hsinchu County council.
The party, which participates in Global Greens - an international network of Green parties - vowed to work hard to implement the concepts in the Global Greens Charter at the municipal level in Taiwan.
"In the next four years, Green Party representatives will serve as civil society's window into Taoyuan and Hsinchu councils and maintain responsibility to all citizens," the English statement said.
"We are grateful to our voters for continuing to believe in us and giving the Green Party this opportunity," it said. "We also urge all sectors of society to encourage these candidates, campaign teams and volunteers, as we believe they will continue to take root and to work with enthusiasm and motivation for opening up a new politics."
Green Party Taiwan's win came as Taiwan's nine-in-one local elections saw several young and new candidates elected, a phenomenon that has been called the rise of the younger generation in Taiwanese politics by commentators.
Green Party Taiwan was established in 1996 by several civic groups. It is a member of the Asia-Pacific Greens Federation and is focused on fighting against labor, environmental and other injustices.
(By Christie Chen; click here for results and aftermath of this year's local elections)ENDITEM/sc