China changes previously announced timetable, PLA drills continue
Taipei, Aug. 8 (CNA) The Chinese People's Liberation Army (PLA) continued its drills near Taiwan into Monday, despite previously announced four days of exercises that were to conclude at noon Sunday, according to Taiwan's military.
The PLA originally announced it would hold live-fire military drills in six maritime zones around Taiwan for four days from Aug. 4 to noon on Sunday in retaliation for a 19-hour visit of Pelosi to Taiwan, the first U.S. House speaker to visit the country in 25 years.
Sunday was supposed to be the last day of those drills, according to China's original timetable, but Chinese state media reported a statement issued by the PLA's Eastern Theater Command on Sunday afternoon indicating the joint exercises surrounding Taiwan would continue, without saying when the latest drills would end.
Asked to comment, Taiwan's Ministry of National Defense (MND) confirmed that the PLA drills continued late Sunday and Monday with warships and spy ships detected sailing near Taiwan and warplanes seen near northern, western, southwestern, and eastern parts of the country.
Meanwhile, the PLA also regularly flies unmanned aerial vehicles over the Republic of China (Taiwan) offshore frontline islands of Kinmen, Matsu and Dongyin, said General Yen Yu-hsien (顏有賢) under the MND's Office of Deputy Chief of the General Staff for Intelligence.
According to Yen, from Aug. 4 to early Monday, a total of 13 PLA warships/spy ships were detected close to but outside the nation's contiguous zone which extends 24 nautical miles from a baseline.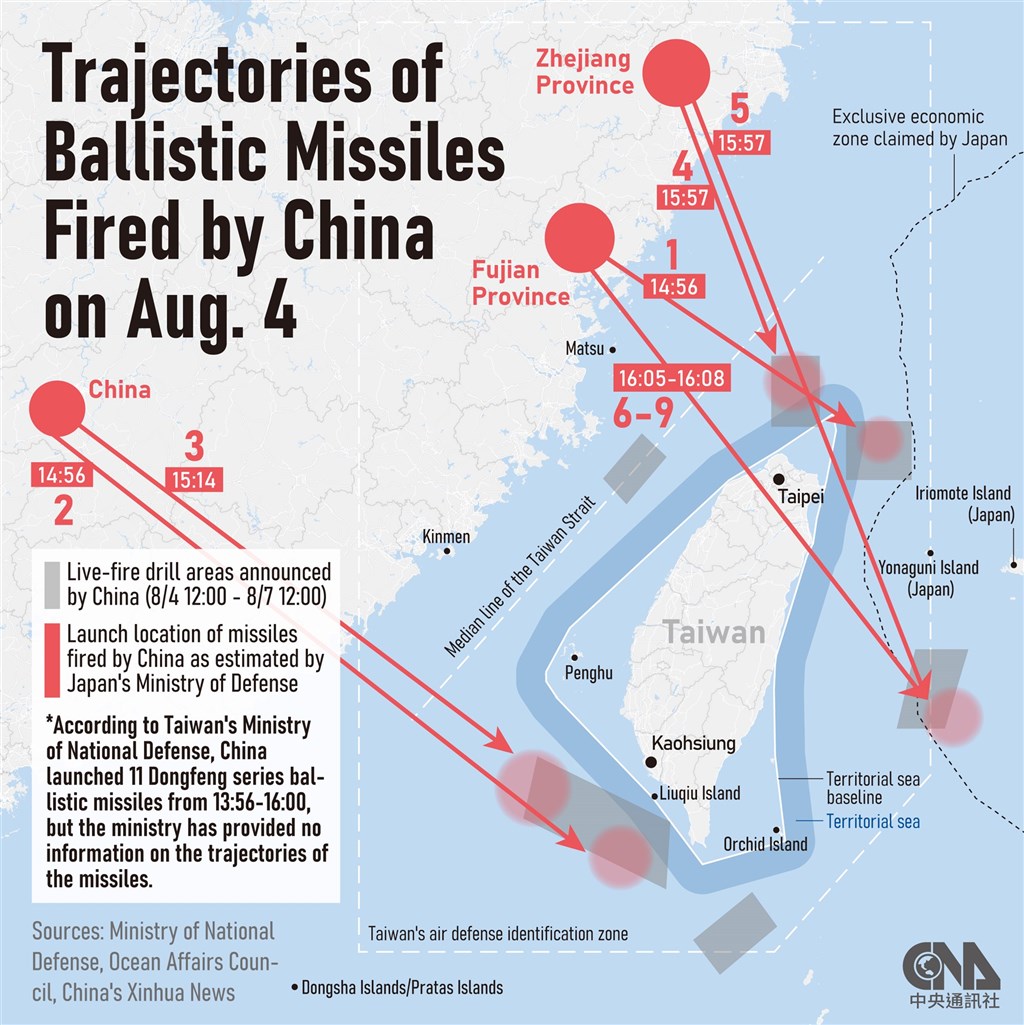 As defined by the 1982 United Nations Convention on the Law of the Sea, the contiguous zone extends seaward up to 24 nautical miles from a country's baseline.
It is an intermediate zone between the territorial sea and the high seas. The coastal state has the right to both prevent and punish infringement of fiscal, immigration, sanitary, and customs laws within its territory and territorial sea.
Meanwhile, speaking during the same press event, Major General Chen Yu-lin (陳育琳), deputy head of the MND's Political Warfare Bureau, said the PLA also engaged in cognitive warfare, disinformation campaigns, and rumor spreading targeting Taiwan before and after the launch of the exercises on Aug. 4.
The ministry has detected a total of 272 examples of "fake news" or misinformation, mostly seeking to lower public trust in Taiwan's government, undermine public morale and build momentum for unification by force, Chen said.
Chen called on people in Taiwan not to fall for Beijing's disinformation campaign and trust only information made public by the MND concerning the drills.
One of the examples of PLA misinformation since the Aug. 4 drills started was a widely circulated photograph and related Chinese media reports that claimed the PLA A Type 052D destroyer Nanjing (南京艦) sailed within 11.78 kilometers of Ho-Ping Power Plant in eastern Hualien County.
In response, Taiwan's Navy late Sunday said such reports were false, stressing that it has closely monitored all Chinese warships since the PLA launched its military drills and none came that close to Taiwan.
Update
FEATURE/Taiwan braces for sustained Chinese pressure
Aug. 18: 51 Chinese warplanes, six warships spotted near Taiwan: MND
Aug. 18: 90% of people in Taiwan opposed to Chinese drills: Survey
Aug. 18: Chinese warship detected near Taiwan missile testing site: Navy
Aug. 18: U.S. trade talks can help counter China 'coercion': Cabinet official
Aug. 17: 50% of Taiwanese believe U.S. could help if China attacks: poll
Aug. 16: China using U.S. lawmakers' visit as excuse for latest drill: Taiwan
Aug. 16: China 'overreacting' to peaceful visits to Taiwan: U.S. official
Aug. 15: U.S. senator praises Taiwan for restraint amid Beijing coercions
Aug. 11: Government to spend NT$200 million on marketing food amid China bans
Aug. 10: MAC slams 'wishful thinking' and 'lies' in China's Taiwan white paper
Aug. 10: Taiwan vows to stay vigilant after Chinese military drills conclude
Aug. 9: 45 warplanes, 10 warships spotted near Taiwan as PLA drills continue
Aug. 9: Taiwan's diplomatic ties stable amid possible China retaliation: FM
Related News
Aug. 8: Chinese drills aligned with plans for taking Taiwan by force: Expert
Aug. 7: Taiwan to hold live-fire artillery drills to test combat readiness
Aug. 6: U.S., Japan, Australia urge China to stop military drills
Aug. 5: China's drills a 'new normal' aimed at changing status quo: Experts
Aug. 4: President Tsai calls China's live-fire drills 'irresponsible act'
Aug. 4: China fires 11 Dongfeng ballistic missiles into waters off Taiwan: MND
Aug. 4: China cannot stop world leaders from visiting Taiwan: Pelosi
Aug. 3: China's military exercises aimed at blockading Taiwan: defense ministry
Aug. 3: China imposes new trade restrictions on Taiwan as Pelosi visits
Aug. 2: Visit to honor 'unwavering' U.S. commitment to Taiwan: Pelosi