Two more alleged Taiwanese spies 'confess' on China's CCTV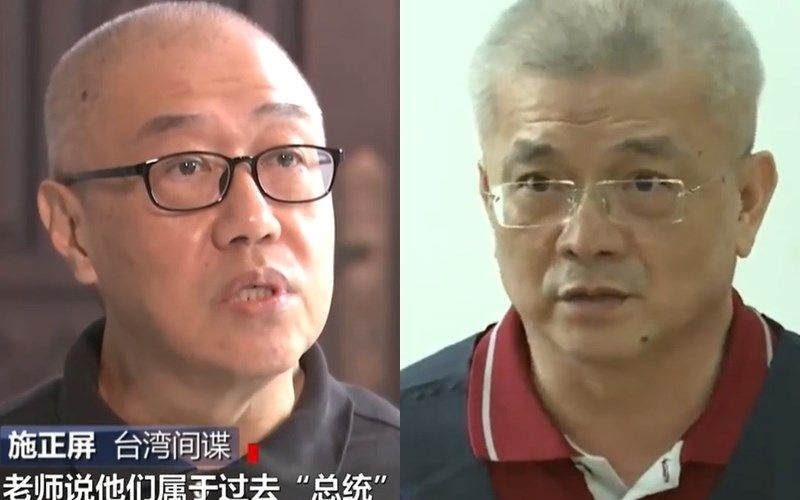 Taipei, Oct. 14 (CNA) Two more Taiwanese nationals found guilty by Chinese courts of spying for Taiwan's government made public "confessions" on Chinese state television Tuesday night.
It was the third consecutive day CCTV has aired programs on what it characterized as efforts to crackdown on intelligence collection efforts conducted by Taipei in China.
In the latest episode of CCTV's three-part "Taiwanese spies" series, Southern Taiwan Union of Cross-strait Relations Association Chairman Tsai Chin-shu (蔡金樹) and retired National Taiwan Normal University professor Shih Cheng-ping (施正屏) confessed on camera to collecting intelligence on China for the Taiwanese authorities for years.
Both men went missing after arriving in China in 2018.
China's Taiwan Affairs Office (TAO) said at the end of last year that the two were under investigation for breaching national security.
According to the CCTV program, both Taiwanese were arrested shortly after their arrivals, on the grounds that they had been passing information about Chinese think tank scholars, journalists and officials in charge of Taiwan affairs to Taiwanese intelligence operatives under the pretense of "cross-strait academic exchange."
CCTV said Tsai, who has engaged in cross-Taiwan Strait exchanges since the 1990s, was recruited by Taiwan's Military Intelligence Bureau (MIB) in 2013.
He established an online news website to facilitate contacts with Chinese scholars, which enabled him to learn inside information about the Chinese government and pass the "intelligence" to the MIB in exchange for NT$5 million (US$174,429), the program alleged.
In his "confession," Tsai said he had been "used by" the MIB to conduct activities jeopardizing the mainland's national security, for which he was "extremely regretful."
Meanwhile, Shih was said recruited by Taiwan's National Security Bureau (NSB) in 2005 while working at Taiwan's representative office in the U.S.
As a renowned scholar, Shih was able to attend cross-strait academic conferences in China. From 2005-2018, he collected confidential information concerning the Chinese government, including Beijing's One-Belt One Road initiative, which he passed to the NSB in exchange for NT$1.6 million, according to the program.
Tsai was sentenced to a four-year prison term in July while Shih's sentence has yet to be announced, the program said.
In the first two episodes of "Taiwanese spies," which aired Sunday and Monday, two Taiwanese citizens, Lee Meng-chu (李孟居) and Cheng Yu-chin (鄭宇欽), made similar confessions which were then criticized by Taiwan's government as bogus.
In response, the Mainland Affairs Council (MAC), Taiwan's government agency in charge of relations with China, condemned Beijing on Tuesday for repeatedly making unsubstantiated accusations against Taiwanese citizens which it called "malignant political manipulation."
In a statement, the MAC said Tsai and Shih were engaging in normal cross-strait academic exchanges and the information they collected was not confidential.
By falsely accusing them of engaging in espionage activities, Beijing has seriously damaged normal cross-strait exchanges, it noted.
The MAC also said it has repeatedly called on Beijing to safeguard Tsai and Shih's judicial rights at trial and to allow their families to visit them during their detention but received no response.
Asked to comment, TAO spokeswoman Zhu Fenglian (朱鳳蓮) said Wednesday that the trials of Tsai and Shih were not open to the public as the cases involved sensitive national intelligence.
China has assigned lawyers to both accused and informed their families in Taiwan where they are being detained, Zhu said.
Commenting on the issue, Johnny Chiang (江啟臣), chair of Taiwan's main opposition Kuomintang (KMT) on Wednesday called on Beijing not to create media hype over so-called Taiwanese spies as doing so will be to the detriment of cross-strait communication and only intensify anti-China sentiment among Taiwanese.
The KMT is generally considered to be more China friendly than the ruling Democratic Progressive Party and has advocated for closer interactions between the two sides of the strait.