Chinese Air Force conducts drill around Taiwan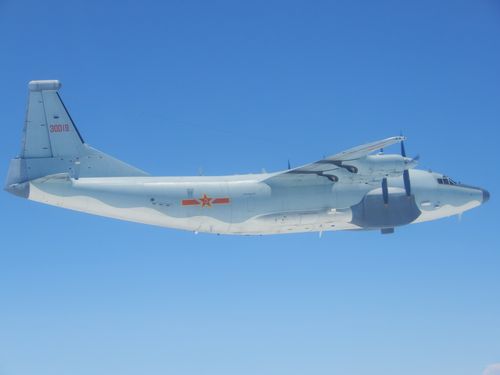 Taipei, April 26 (CNA) China's People's Liberation Army (PLA) conducted an Air Force drill around Taiwan on Thursday morning, the latest in a series of air and sea military exercises by China over the past two weeks.
Thursday's drill included fighter jets, airborne-warning planes, intelligence gathering aerial vehicles, and Xi'an H-6K strategic bombers, the PLA Air Force said on the social media site Weibo.
The fleet engaged in a live-fire combat drill that took the aircraft through the Miyako Strait and the Bashi Channel, circling Taiwan.
In its Weibo post, the Air Force said Taiwan is in the embrace of the motherland, and the motherland is in the hearts of its soldiers.
"It is our holy duty to protect the motherland," the Air Force said.
In response, Taiwan's Ministry of National Defense (MND) said the exercises were not unusual and posed no threat to Taiwan's safety. The ministry also said it had a firm grasp of the activities by China.
"We're Watching You!" the MND spokesperson posted on his official Facebook page.
The air drill by China followed a statement the previous day by Ma Xiaoguang (馬曉光), spokesman for China's Taiwan Affairs Office (TAO), who issued a warning to Taiwan about any attempts at independence.
He said the PLA's live-fire military exercise on April 18 had sent a clear message about China's determination and capability to defeat any attempts by Taiwan to declare independence and to protect China's sovereignty and territorial integrity.
If Taiwan's independence movement continues its reckless behavior, China will take further action, Ma said.
In response, the TAO's Taiwan counterpart, the Mainland Affairs Council (MAC), said the Taiwanese people will not accept China's military suppression or threats.
China should not misinterpret situations and blame Taiwan for its actions, the MAC said.
The only way to resolve the tensions across the Taiwan Strait is to put down weapons, accept that two political systems exist, and engage in dialogue, the MAC said.
A Chinese aircraft carrier and planes had been carrying out military exercises in the western Pacific, South China Sea and Taiwan Strait in the two weeks leading up to Thursday's airborne drill.
Meanwhile, Taiwan conducted a military drill at the Su'ao naval base in Yilan County on April 13, which was observed by President Tsai Ing-wen (蔡英文).
Taiwan's annual Han Kuang military exercises, its largest live-fire drills, are scheduled for June 4-8, according to the MND.