Taiwan shares end up as TSMC, AI stocks post gains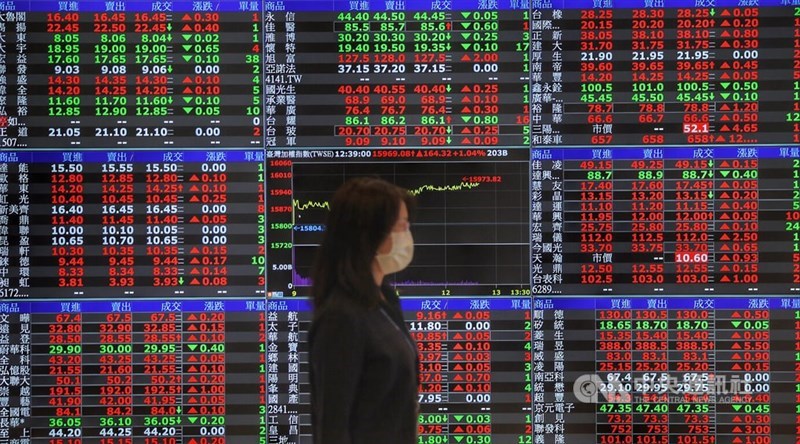 Taipei, Sept. 27 (CNA) Shares in Taiwan recouped earlier losses to close slightly higher Wednesday, despite heavy losses on U.S. markets overnight, as buying emerged to push up contract chipmaker Taiwan Semiconductor Manufacturing Co. (TSMC) and select stocks related to artificial intelligence development, dealers said.
The Taiex, the weighted index on the Taiwan Stock Exchange (TWSE), ended up 34.29 points, or 0.21 percent, at 16,310.36 after moving between 16,212.86 and 16,324.22. Turnover totaled NT$214.86 billion (US$6.67 billion), down from NT$239.78 billion a session earlier.
The market opened down 2.23 points and moved up and down in a narrow range for most of the trading session despite a 1.14 percent fall on the Dow Jones Industrial Average and a 1.54 percent fall on the tech-heavy Nasdaq index overnight, dealers said.
Bargain hunting
Bargain hunters turned active, in particular in the late trading session, to pick up TSMC and AI related stocks, vaulting the Taiex past the 16,300 point mark by the end of the session, a mild technical rebound from a 1.07 percent plunge on Tuesday, dealers added.
"The U.S. heavy losses overnight resulted from a spike in treasury yields, which were largely priced in on the local main board Tuesday," Cathay Futures Consultant analyst Tsai Ming-han (蔡明翰) said. "Today the Taiex saw some bargain hunting as investors took advantage of yesterday's steep decline."
"TSMC and select AI related stocks were targeted by these bargain hunters, serving as an anchor stabilizing the Taiex, while many other tech stocks stayed mixed," Tsai said.
TSMC, the most heavily weighted stock on the local market, rose 0.58 percent to close at NT$522.00, off an early low of NT$516.00. TSMC's gains contributed about 25 points to the Taiex's rise, and led the electronics index and the semiconductor sub-index to move higher by 0.39 percent and 0.36 percent, respectively.
Other tech stocks
Among other semiconductor stocks, United Microelectronics Corp., a smaller contract chipmaker, lost 0.78 percent to close at NT$44.40, while smartphone IC designer MediaTek Inc. closed unchanged at NT$737.00.
In addition, shares in Global Unichip Corp., TSMC's application specific integrated circuit (ASIC) design subsidiary, lost 3.20 percent to close at NT$1,360.00, while Alchip Technologies, Ltd., another ASIC designer, gained 1.35 percent to end at NT$2,635.00.
Certain AI-related stocks were also supported by bargain hunters after recent losses, Tsai said. Among them, AI server maker Quanta Computer Inc. rose 3.84 percent to close at NT$230,00, and rival Wistron Corp. gained 1.48 percent to end at NT$103.00.
Also in the tech sector, iPhone assembler Hon Hai Precision Industry Co., second to TSMC in terms of market value, closed unchanged at NT$104.00, while Largan Precision Co., a supplier of smartphone camera lenses to Apple Inc., lost 0.94 percent to end at NT$2,105.00.
Cargo shippers, tourism stocks
"With electronic stocks largely moving in a narrow range, investors tended to seek targets outside the sector to park their money. Today, bulk cargo shippers and tourism stocks received a boost from such rotational buying," Tsai said.
Among bulk cargo shipping stocks, Chinese Maritime Transport Ltd. gained 1.48 percent to close at NT$48.30, Sincere Navigation Corp. rose 1.29 percent to close at NT$25.60, and U-Ming Marine Transport Corp. closed up 1.05 percent at NT$48.30.
On the back of strong domestic spending, the tourism industry rose 0.27 percent with FarGlory Hotel Co. rising 1.55 percent to end at NT$35.30, FDC International Hotels Corp. gaining 1.54 percent to close at NT$72.40, and My Humble House Hospitality Management Consulting growing 0.92 percent to end at NT$38.45.
Steel, financial sectors
Under performing the broader market, the steel industry fell 1.61 percent as Wong Chao-tung (翁朝棟), chairman of China Steel Corp., the largest steel maker in Taiwan, said Tuesday in an internal letter to employees that he was downbeat about the company's operations this year amid lingering weak global demand.
China Steel lost 2.30 percent to close at NT$25.45, Tung Hon Steel Corp. shed 2.86 percent to end at NT$61.20, and Chung Hung Steel Corp. dropped 3.58 percent to end at NT$22.90.
In the financial sector, which was boosted by late session buying, down only 0.04 percent, Cathay Financial Holding Co. rose 0.34 percent to close at NT$44.69, while Fubon Financial Holding Co. ended unchanged at NT$60.60.
Despite the gains, "turnover remained limited today as many investors preferred to take to the sidelines ahead of the long weekend to celebrate the upcoming Mid-Autumn Festival," slated to start Friday, Tsai said. "I expect light trading will continue tomorrow."
According to the TWSE, foreign institutional investors stayed on the sell side, registering net sales of NT$1.49 billion worth of shares on the main board Wednesday, after net sales of NT$23.16 billion on Tuesday.