Uber should make transition for fairer competition: MOTC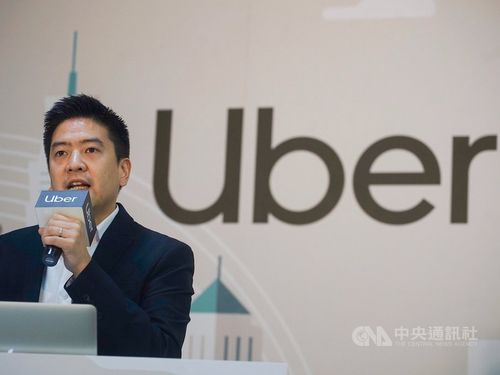 Taipei, April 23 (CNA) The Ministry of Transportation and Communications (MOTC) on Tuesday urged ride-hailing service Uber Taiwan to register as a taxi service provider if it wants to maintain its current operation model in the country.
"I am all for the sharing economy, but Uber must follow the law to operate legally in Taiwan," said Transportation Minister Lin Chia-lung (林佳龍) in a meeting with the media, adding that it is a matter of market order in which Uber and local taxi companies can compete fairly.
It only takes NT$5 million (US$162,000) to set up a taxi company, and have its 10,000 drivers take the test to obtain a taxi drivers' license and a taxi service operation permit in order to maintain Uber's business model, added MOTC Deputy Transportation Minister Wang Kwo-tsai (王國材).
Uber would then be covered by Taiwan's multi-purpose taxi program, which permits upfront pricing and flexible rates with a minimum fare base, without having to change Uber's general operation style, including the appearances of its vehicles, Wang said.
Uber Taiwan is the company's most profitable branch in Asia, and it charges a high commission fee of 25 percent of the fare, Lin said, urging the company to consider cutting the fee by half so its local partners receive a more reasonable share, to create a new business model under which "everybody wins."
Lin's comments came after about 200 Uber vehicles parked on Ketagalan Boulevard on April 20 to protest the MOTC's planned revision to the "Regulations for Automobile Transportation Operators."
The amendment would add Article 103-1 to the regulations which prohibits drivers of vehicles from rental car companies to drive around seeking passengers or schedule shifts to accommodate customers calling for a ride.
It would also require fares to be charged by the hour or the day.
After Taiwan barred Uber's standard ride-hailing service because the company refused to abide by regulations applicable to transportation companies, such as taxis, a new system was devised two years ago allowing drivers to use cars from rental car companies and seek passengers through Uber's service.
However, the MOTC found that the service is essentially a taxi service working with Uber in everything but name and ruled it to be in violation of the law.
The MOTC published the proposed amendment in February and scheduled it to take effect on April 26, sparking the protest by Uber drivers.
In response to Lin's latest remarks, Uber Taiwan said it is not a question of whether the company should become a taxi service provider but the government's unwillingness to accept a business model built on new technology that has already won the support of many passengers in Taiwan.
Uber has said it is unreasonable and irresponsible for the MOTC to suggest the conflict between taxi companies and Uber can be solved simply by platform drivers becoming taxi drivers and for Uber becoming a taxi operator.
"This approach shows a refusal to recognize how our app works, how rental car drivers want to work, and how consumers want to commute," it said.