Taiwan shares end lower as earlier gains eroded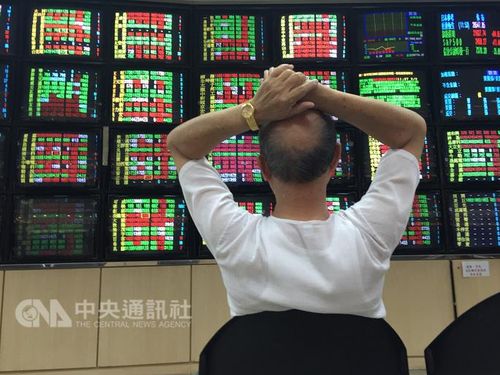 Taipei, April 18 (CNA) Shares in Taiwan closed lower Thursday as investors pocketed their earlier gains after the local main board breached 11,000 points at one point in the early morning session, dealers said.
The bellwether electronics sector came off a high as Hon Hai Precision Industry Co., the world's largest contract electronics maker, suffered profit taking selling after a strong showing in recent sessions, while other large tech stocks and old economy stocks also came under pressure, they said.
The silver lining was that Taiwan Semiconductor Manufacturing Co. (TSMC), the most heavily weighted stock on the local market, remained resilient, preventing the broader market from falling further by the end of the session, dealers said.
The weighted index on the Taiwan Stock Exchange (TWSE) or the Taiex ended down 35.24 points, or 0.32 percent, at 10,962.02, after moving between 10,926.85 and 11,077.99, on turnover of NT$169.31 billion (US$5.49 billion).
The market opened up 0.37 percent to pass 11,000 points on follow-through buying from the previous session, when the Taiex closed up 0.64 percent, and continued to rise to the day's high in the early morning session on the back of continued buying of Hon Hai shares, with investors happy to hear company chairman Terry Gou (郭台銘), announce the day before his intention to take part in the Kuomintang's presidential primary, dealers said.
However, the main board soon turned weaker as investors rushed to lock in their gains posted in recent sessions, pushing the Taiex below 11,000 points, while TSMC's upturn helped the broader market offset the impact resulting from the latest profit taking, they said.
"High technical hurdles remained ahead of 11,000 points so it was not surprising that the main board failed again to stay above that level today," Concord Securities analyst Kerry Huang said, adding that stiffer technical resistance is expected at around 11,270 points, an intraday high seen on Jan. 23, 2018.
"Many investors simply cut their holdings after Gou's presidential bid (announced Wednesday) had been pretty much factored into Hon Hai's share price," Huang said. Hon Hai fell 0.22 percent to close at NT$91.60 after hitting a high of NT$97.20 with 155.79 million shares changing hands. The stock, the second largest in terms of market capitalization after TSMC, rose 2.11 percent Wednesday.
Also in the bellwether electronics sector, which closed down 0.04 percent at 457.11, off a high of 463.77, PC brand Asustek Computer Inc. lost 1.67 percent to close at NT$236.00, and integrated circuit packaging and testing services provider ASE Technology Holding Co. shed 1.46 percent to end at NT$74.10.
"Fortunately, we had a resilient TSMC," Huang said. "The gains posted by TSMC showed optimism that the company would give a positive outlook for the second half of this year at an investor conference later today."
TSMC rose 1.15 percent to close at NT$264.50, although the stock came off an early high of NT$266.00, with 37.96 million shares changing hands.
Led by TSMC, the semiconductor sub-index closed up 0.73 percent with IC designer MediaTek Inc. up 0.87 percent to close at NT$291.00 on a technical rebound from Wednesday, when the stock ended down 3.83 percent.
Non-high tech stocks appeared sluggish also on profit taking, dealers said. Among them, shares in food brand Uni-President Enterprises Corp. fell 2.34 percent to close at NT$71.10, and textile maker Far Eastern New Century Corp. lost 2.60 percent to end at NT$31.80.
In the financial sector, CTBC Financial Holding Co. fell 0.74 percent to close at NT$20.20, and Fubon Financial Holding Co. dropped 0.44 percent to end at NT$45.00, while Cathay Financial Holding Co. rose 0.23 percent to close at NT$44.20.
"We have to continue to pay close attention to the on-going earnings season at home and on Wall Street," Huang said. "In addition, trade friction between the United States and the European Union is also worth watching."
According to the TWSE, foreign institutional investors bought a net NT$2.06 billion worth of shares on the main board Thursday.