CORONAVIRUS
/
Taiwan to expand medical capacity as daily COVID cases spike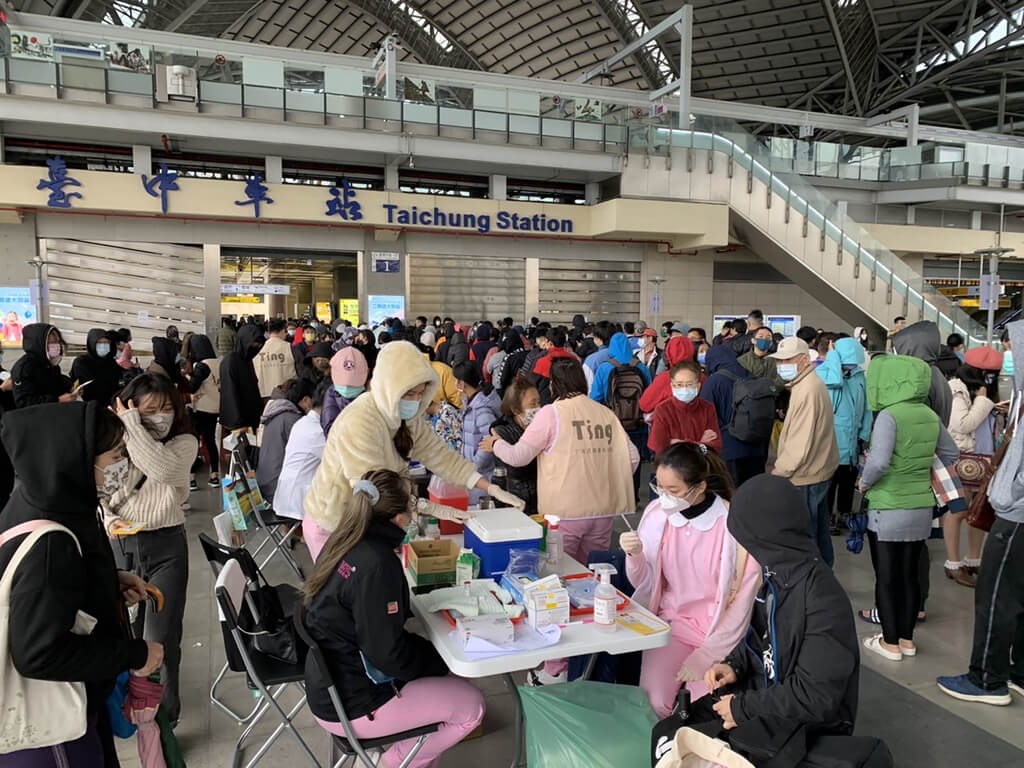 Taipei, April 2 (CNA) Taiwan is planning to address a recent surge in new COVID-19 cases, which reached a new 2022 high on Saturday, by expanding its medical capacity and quarantine facilities, according to Health and Welfare Minister Chen Shih-chung (陳時中).
The plan was announced on the same day the Central Epidemic Command Center (CECC) reported 160 new locally transmitted COVID-19 cases and 244 imported cases -- both new single day highs for 2022.
Under the plan, hospitals in Taipei, New Taipei, Keelung and Taoyuan will be required to set aside either 5 percent or 20 percent of their beds for COVID-19 patients with severe symptoms or who are aged 65 and above, depending on each hospital's role in COVID-19 prevention protocols, Chen said.
Patients under 65 with mild or no symptoms will be isolated in designated quarantine hotels or existing government quarantine centers that will be staffed with medical workers, Chen said.
The goal, Chen said, is to have two designated quarantine hotels per 10,000 people.
Related: Taiwan adjusts policy on triaging of COVID-19-positive travelers (March 23) 
The CECC will not consider home quarantine for confirmed cases under the plan, he said, without indicating when it will take effect.
People will also be sent to different facilities depending on whether their cases are imported or domestically transmitted, he said.
Travelers who test positive upon arrival in Taiwan will be sent to quarantine centers in central or southern Taiwan, while confirmed local cases will be sent to hospitals or quarantine facilities in areas where they reside, Chen said.
The CECC's attempt to bolster Taiwan's medical capacity comes after it was caught unprepared in May 2021 when COVID-19 cases spiked suddenly. Hospital beds in Taipei and parts of New Taipei filled up quickly, and many patients, including the elderly, were forced to isolate at home without any medical supervision.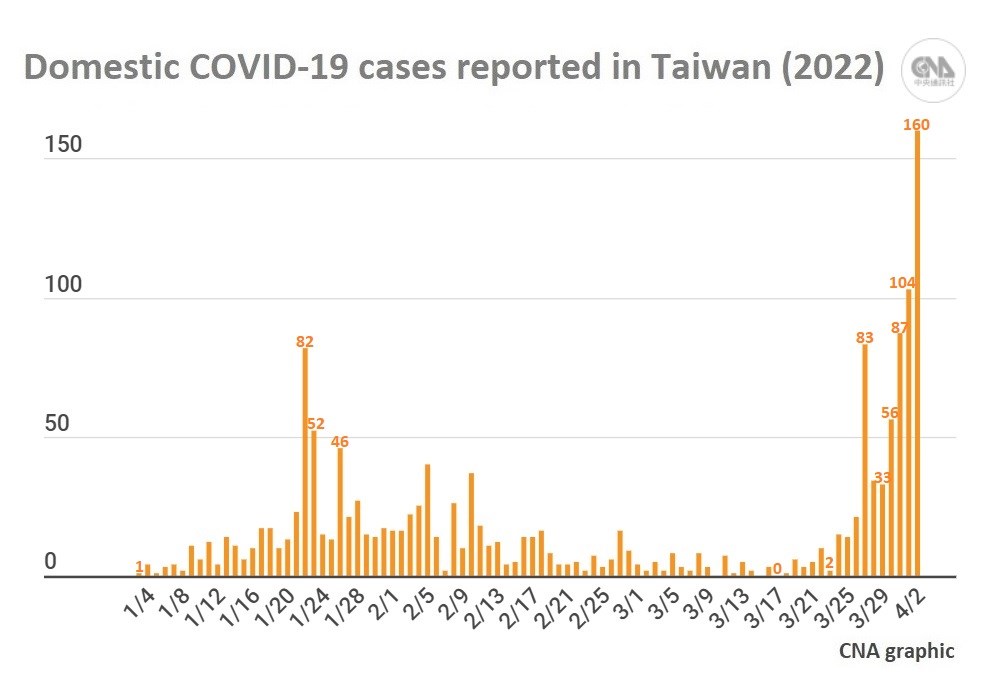 The 160 new domestic cases reported Saturday were distributed across 14 cities and counties, including the offshore county of Kinmen, up from the 104 in nine cities and counties reported on Friday, according to the CECC.
A total of 83 of Saturday's new domestic cases were asymptomatic, while the sources of 52 newly reported infections were still being looked into.
Keelung cluster
Of the 160 new domestic cases, 42, including 37 residents in Keelung, were linked to a cluster in the northern port city, in which the number of cases totaled 157, according to a list of 10 major clusters the CECC is monitoring in Taiwan.
Several initial cases reported in the Keelung cluster in late March have been found to be caused by the Omicron BA.2.3 subvariant of the coronavirus, according to the CECC.
CECC official Victor Wang (王必勝) said in Keelung on Saturday morning that in the past two to three days, the ratio of people who have tested positive for COVID-19 has remained steady at around five to six per 1,000 who went to testing sites across the city.
He expected that it would take some time before the number of new cases in Keelung drops.
Other cases
Meanwhile, New Taipei reported 52 new cases, the highest in Taiwan, with 17 linked to a cluster involving several schools in the city's Sanxia District, and 10 connected to a cluster first identified in a residential complex in Zhonghe District, according to the CECC.
Seven cases have been added to a cluster first identified at a construction site at Datan Power Plant in Taoyuan, bringing the number of cases in the cluster to 96, the CECC said.
The number of cases in another cluster involving a wedding in Taichung rose by seven Saturday to 33, according to the CECC.
Two cases in the Taichung wedding cluster have been confirmed to be the Omicron Ba.2.3 subvariant, but the strain is genetically different from that found in the Keelung cluster, Chen said.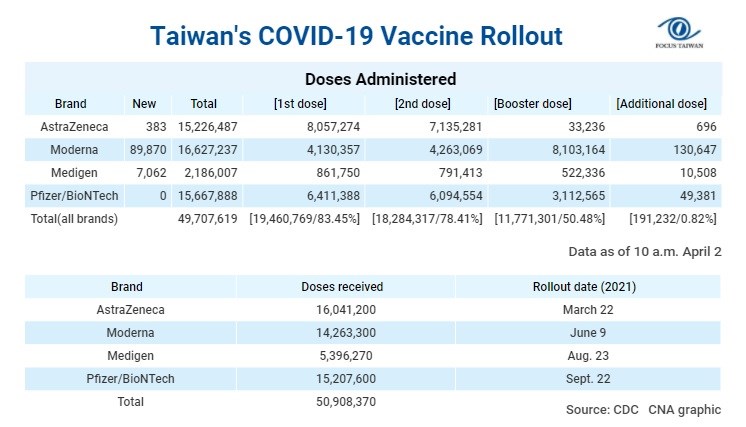 Imported cases
A total of 244 new imported COVID-19 cases were reported Saturday, including 186 travelers who tested positive at the airport from among 2,525 who arrived in Taiwan that day, Chen said.
The total number of arrivals was one of the highest in recent weeks after the government began easing restrictions on visits to Taiwan by students and short-term stays by businesspeople.
One of those with an infection that originated abroad was table tennis player Lin Yun-ju (林昀儒), who tested positive Friday upon arrival after returning from tournaments in Doha, Qatar, according to Chen. Other members of Taiwan's team tested negative, he said.
To date, Taiwan has confirmed 24,033 COVID-19 cases since the pandemic began in early 2020, including 16,133 domestically transmitted infections.
With no deaths reported Saturday, the number of confirmed COVID-19 fatalities in the country remained at 853.
Related News
April 1: Taiwan still plans to open up gradually, despite case spike: Premier
March 31: Keelung COVID-19 cluster linked to karaoke bar grows to 91 cases
March 30: Mass COVID-19 testing in Keelung planned as domestic cases spike
March 27: Domestic COVID-19 cases spike in Taiwan as clusters grow
Recent cases
April 2: Taiwan reports 160 new COVID-19 domestic cases, 244 imported
April 1: Taiwan reports 236 COVID-19 cases, including 104 domestic
March 31: Taiwan reports 239 COVID-19 cases, including 87 domestic
March 30: Taiwan reports 163 new COVID-19 cases, including 56 domestic
March 29: Taiwan reports 96 new COVID-19 cases, including 33 domestic
View All