Sea warning likely as tropical storm forms: CWB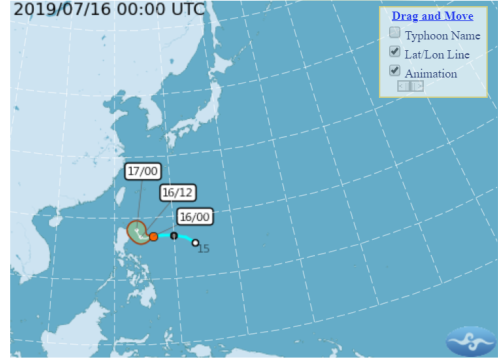 Taipei, July 16 (CNA) A tropical depression east of the Philippines is expected to develop into a tropical storm at around 8 p.m. Tuesday night and will likely trigger a sea warning three hours later, according to the Central Weather Bureau (CWB).
As of 8 a.m. Tuesday, the system was located 820 kilometers southeast of Taiwan's southernmost tip, moving westward at a speed of 27 kilometers per hour, the CWB said.
It was packing maximum sustained winds of 54 kph and gusts of 82.8 kph, according to the bureau, which said it could issue a land warning for the storm on Wednesday.
The storm could veer significantly northward Tuesday evening and head toward southeastern Taiwan, increasing its chances of affecting the island, forecasters said.
The storm, to be named "Danas," may come closest to Taiwan between Thursday and Friday, with its strength likely to reach that of a typhoon, the bureau said.
As Danas moves closer, people in central, southern and eastern Taiwan should be prepared for torrential rainfall, the CWB warned.
Due to stronger winds and waves from the tropical storm, ferry services between Taitung County and Orchid Island will be suspended on Wednesday and Thursday, the county government announced.
Meanwhile, scorching temperatures ranging between 34 and 36 degrees Celsius were seen around Taiwan on Tuesday, the bureau said, but thunderstorms are likely in the afternoon in mountainous areas and in central and southern Taiwan.
The highest temperature recorded in Taiwan on Tuesday as of 1 p.m. was 37.2 degrees in Guangfu Township in central Hualien County at 11:20 a.m., and temperatures of 36 degrees were recorded in Taipei, New Taipei and Taoyuan.